Foods + drinks I always have in the house
03.29.2017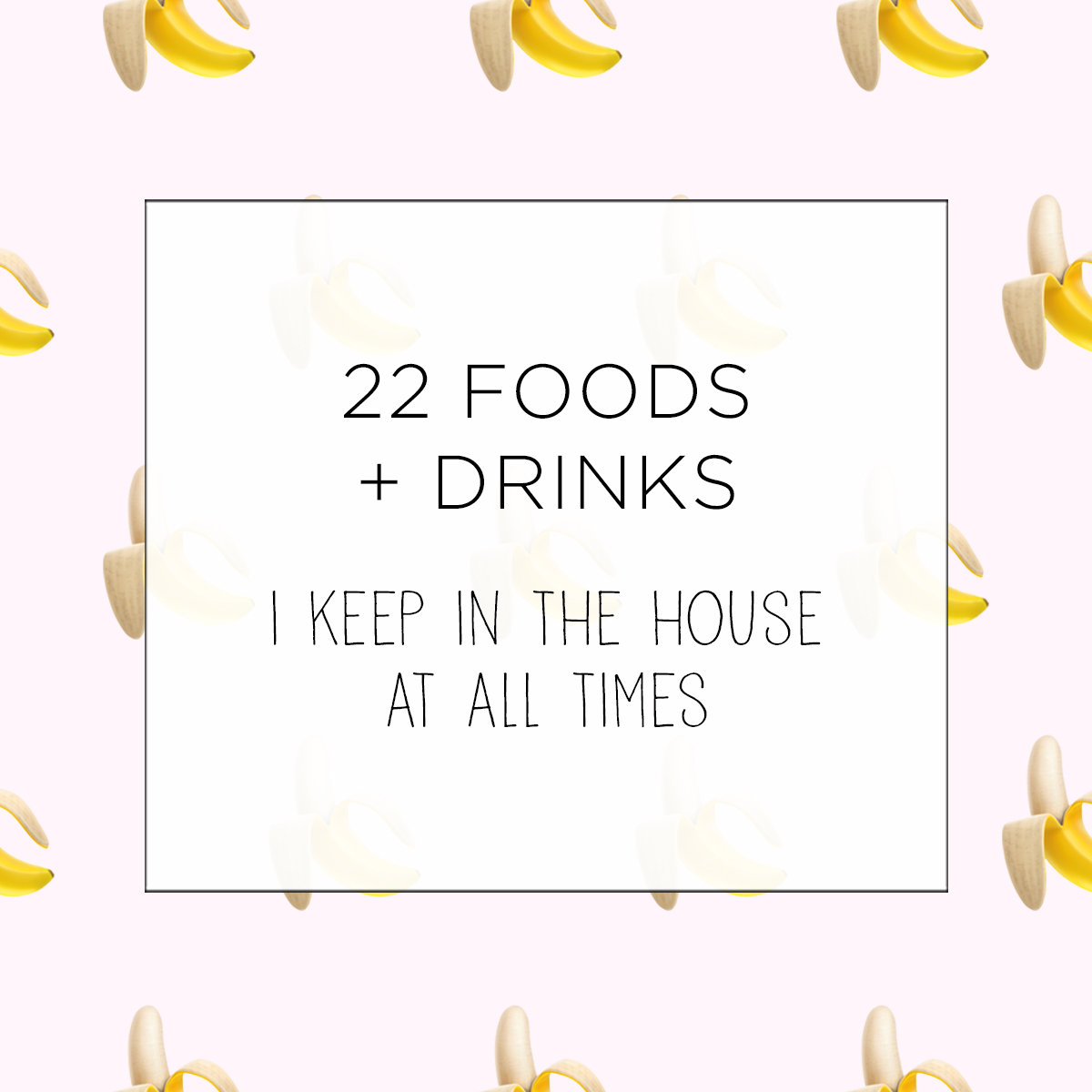 Or at least I try to…
Sometimes I run out sooner than I expect.
But more often than not, you can find these foods & drinks in our house at all time, regardless of my food cravings or "food swings" ( LOL )
I'm VERY moody when it comes to food.
I get really into something and I'll eat it day after day, meal after meal, and then, eventually, I'll need a break so I won't buy it for awhile.
I go through phases.
But THESE are my staples.
Most of these foods are nutrient dense, versatile and easy to enjoy.
They're available & affordable year round, and stay fresh for a pretty long time—or they're versatile enough that's it's easy to use them into different meals and recipes within their expiration date.
This list definitely helps me with grocery shopping & creating a healthy kitchen, so I'm hoping it helps you guys too! ( You can repin it here for convenience )
Okay, let's dive in!

I'm OBSESSED with sparkling natural mineral water—& I like to drink it from a champagne flute as you might have heard ( LOL )
Personally, I prefer Perrier because it has larger bubbles, but I'm more than happy sipping either.
Also, there's something super refreshing about having sparking natural mineral water at night or in the middle of the night when I wake up, which happens more often than I'd like, haha.
P.S. If you're looking for a soda replacement, definitely try Perrier. It'll make it easier to break the habit.
Right now I'm obsessed with Peet's Coffee Major Dickason's Blend—it's a dark roast.
I have it every morning & I legit go to bed excited to wake up and have my coffee, through a stainless steel straw, of course ; ) It helps me avoid stains on my teeth & keeps my teeth white.
Coffee is also my favorite "pre-workout". I have so much more energy when I workout after having coffee, than when I workout without it.
&… It keeps things regular.
You know you love coffee for that reason too, be honest.
All credits go to Arrash's sister, Michelle, on this one!
Michelle ( Meesh ) introduced us to So Delicious Original Coconut Milk Creamer and it is so, so good!! Definitely a big reason why I look forward to my morning coffee, and why I prefer having coffee at home.
I stick with Original to avoid "natural flavors".
I avoid them because "natural flavors" can refer to so many different things & I'd rather take out the mystery when it comes to food ingredients.
Okay, so, lately I've been starting my day with coffee & ending it with tea—usually peppermint tea. There's something therapeutic about it, for me—and it helps me wind down for bed. It kind of signals my body and brain that it's had dinner & it's done eating… Which keeps me from binging / constantly snacking before bed.
Sometimes I'll have a cup or two during the day too.
Very Persian of me, right? My parents sip Persian tea all day & night.
Peppermint tea is non-caffeinated so I feel good about having it at night. Plus, it's delicious.
I drink my tea from a stainless steel straw. Gotta keep those teeth white ; )
I use coconut water in homemade juices & smoothies so I try to buy this in bulk too.
I've also been drinking it straight since from the bottle ( LOL ) since I started drinking Harmless Harvest—it's SO good, and naturally sweet ( & pink ), so you can treat it like dessert ; )
Though it'll never replace chocolate… Scroll down, dark chocolate is on this list, too.
I feel like Harmless Harvest is the closest you can get to fresh coconut water from a bottle.
A fresh coconut on the beach is pretty damn good, too. It's the BEST.
I also love coconut water because it provides potassium.
I'm a big fan of eggs because they're versatile, easy to cook and full of protein.
I'm very particular about my eggs. I buy Vital Farms pasture-raised organic eggs from Whole Foods because they're organic and have one of the most humane practices I've seen when it comes to hens and eggs.
How I use them:
I like to make hard boil eggs a couple times a week and keep them in the fridge to have with my morning coffee and / or to eat as a snack during the day.
I also love a quick omelet with spinach and sometimes, mushrooms + onions.
I'll eat the omelet on it's own or I'll add it to toast to make an open-faced sandwich… Quick lunch idea you can fall back on! You've seen me make this on Snapchat if you're following along : ) ( add me—username: joyfetti )
I eat these like chips. Really.
They're so good, plus, they're in season during the winter when most of the fruits I'm obsessed with ( like berries ) are not. So, I've been eating a lot of these, which doesn't help with my tooth sensitivity, but it's worth it, with semi-moderation.
Also, I'll usually put them out in an Anthropologie bowl during dinner parties so people can snack on something healthy if they want.
Another Persian move… We always have fruit on the table.
What is a smoothie without a banana?
Really though…
I tried to make a smoothie without a banana once ( because I ran out—GAH! ) and it was NOT good. It was gross.
I know you can make a smoothie taste good without a banana ( Google told me ), but for now, I'm happy plopping a banana into my smoothies at all times. YUM! Plus, bananas provide potassium and magnesium.
I also like topping them with peanut butter & cinnamon for a quick treat, or putting them on toast.
& I also eat them on their own…
And I feel like that quote "never make eye contact while eating a banana" was something I should've learned a long time ago. Whoops.
Same with lollipops…
I got weird looks when I was eating a lollipop in downtown Burlingame Avenue last month. Anyone else experience this?
Apples are a great staple. I use them in homemade juices, add them to salads, or slice them up and dip them in peanut or almond butter.
I also bite right into them —Adam & Eve style.
Apples are great when I need something sweet or crunchy, and they're a good source of fiber and magnesium.
Okay, lemons… I LOVE lemons! ( Oprah Winfrey Weight Watchers ad moment HAHA you know what I'm talking about? LOL, I LOVE her! )
I add lemons to soup ( usually bone broth ), homemade juices, fish, and a bunch of other recipes like this shrimp ceviche recipe I'm totally OBSESSED with!
I'm also planing to get back into drinking a glass of lemon water first thing in the morning… Anyone else doing this right now?
Read about the health benefits here.
Spinach is SO versatile and full of nutrients like protein, calcium, iron and potassium.
I add it to omelets, pasta sauce, smoothies, homemade juices, yogurt ( after I cook the spinach ) and not surprisingly I use it as a base for salads, too.
Plus, you can freeze it if you buy too much, and can cook it / add it to the blender later, which is very convenient!
100% a staple! I buy these mostly for smoothies.
My favorites include strawberries, raspberries ( high in fiber ), blueberries, mango, pineapple, & peach. Berries are full of antioxidants and raspberries, in particular, are a good source of fiber.
I add these to smoothies, my peanut butter, anything I can think of really… They have so many health benefits. They're a great source of Omega-3 fatty acids & they provide a modest amount of protein as well!
Omega-3 fatty acids are important for optimal health & wellness, and they're also anti-inflammatory.
I love these for smoothies & peanut butter.
I get ground flax seeds because it's easier to absorb the nutrients when they're grounded vs. whole.
Like chia seeds, they're a great source of Omega-3 fatty acids & provide a modest amount of protein.
I didn't start eating hemp seeds until recently because compared to ground flax seeds and chia seeds they have more Omega-6 fatty acids ( which are pro-inflammatory ) than they do Omega-3 fatty acids, and it's important to have a balanced ratio of Omega-6 to Omega-3 in our diets.
A 1:1 ratio is ideal, but most people today are getting a 16:1 ratio of Omega-6 to Omega-3 so it's important to incorporate more Omega-3 rich foods in our diet.
This balance is really important for overall health.
BUT ( !!! ), I started eating hemp seeds because they have more protein than chia & flax seeds & they taste SO GOOD!
If you like nutty flavors, you'll love hemp seeds! I especially love them in my smoothies for an added crunch & nutty flavor.
Nuts are great to snack on & they're a great source of protein and healthy fats.
I usually get raw, unsalted almonds ( which also provide calcium & magnesium ) & slivered almonds, and sometimes walnuts ( a good source of Omega-3 fatty acids ) and cashews.
I'm also a big fan of sunflower seeds though I try to limit them because they're high in Omega-6 fatty acids.
I like snacking on them, adding them to smoothie bowls, and sometimes, salads and yogurt.
Pure nut butter, without the shitty ingredients…
Trader Joe's and Justin's are good options for delicious and healthy nut butters. I'm a big fan of peanut butter & almond butter.
I dip apple slices in it, spread it on toast, and sometimes have it straight from a spoon.
I know you do too ; )
Plus, the dogs love peanut butter!
My mom's been making us bone broth for as long as I can remember. It's one of my favorite recipes of hers.
Being a chicken ( no pun intended ) and not wanting to making my own bone broth from scratch, I found some delicious store brands that aren't full of junk and taste delicious with some added seasoning.
P.S. Seeing a pattern here? I always read ingredients.
My favorite brands right now are Epic Homestyle Savory Chicken Bone Broth ( made with organic chicken ), which is shelf stable, & Bonafide Provisions Organic Chicken Bone Broth, which is frozen ( I just defrost it in the fridge for 24 hours )
I heat it up with pepper, pink himalayan salt & chili flakes, pour it in a mug & add fresh squeezed lemon—SO YUM!
I love having protein or nutrition bars on hand for a quick snack ( or dessert, if we're avoiding cake ; ) ) so I buy these in bulk too!
My favorites right now are Larabar Chocolate Chip Cookie Dough and Square Organics Chocolate Covered Peanut Butter.
What are your favorites? What should I try next?
Plant-based protein powders
I'm OBSESSED with Vega One—right now, we have the All-In-One Nutrition Shake in Natural and French Vanilla flavors, as well as the Vega Sport Performance Protein in Vanilla. I love that they're protein based and taste amazing!
So I have a sweet tooth…
I can limit my sugar intake and I've even gone months without dessert ( usually in preparation for a Vegas trip, LOL ) but I have low blood sugar so chocolate is basically my medicine ; )
I kid, kind of…
Sugar from fruits can help me from going dizzy when I'm low on sugar, but sometimes you just need some chocolate, you know? At least I do.
So I like to keep Whole Foods' 365 Dark Chocolate Baking Chunks in the pantry. On a positive note, dark chocolate provides probiotics so it's not only only good for your heart, it's also good for your gut ; )
I add the chunks to my DIY goji berry trail mix and use them to make my chocolate covered almond haystacks—both of which I've made on Snapchat.
LMK if you want me to share these recipes on the blog?
& sometimes, I eat a few chunks from the bag : )
If I need a quick treat… Something with natural sugar… I'll reach for some dried fruit—usually dried apricot ( a good source of iron ), prunes or dried mango, without added sugar ( this is key! ) Fruit is naturally sweet, so there's no need to add sugar. I also LOVE goji berries, which are a great source of antioxidants, and I'll often add raisins ( & dried yogurt ) to my yogurt—raisins provide iron as well.
I always look for organic, unless it's something with a think skin—like bananas & oranges.
Okay spill… What do you keep in your house at all times?
Would love to hear!
<3,
Bita