What to Pack for Punta Cana
06.01.2016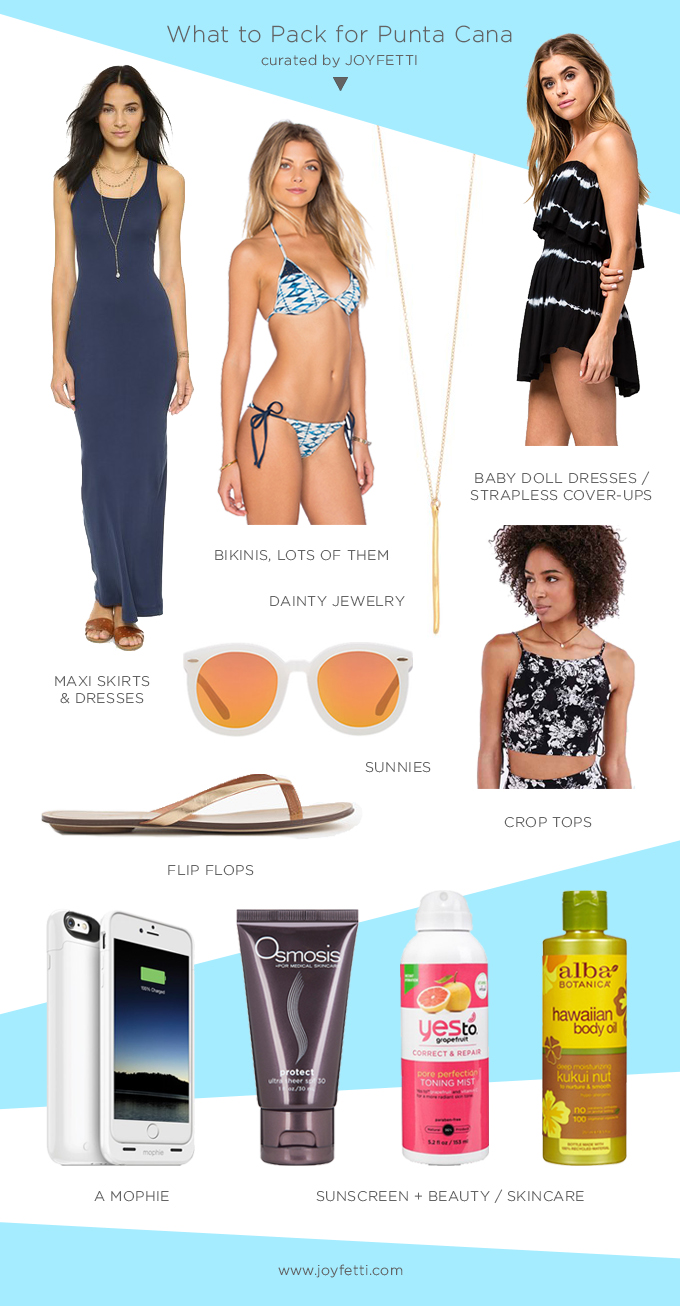 HI GUYS!
I hope you enjoyed your weekend. We BBQ'd a little & took Minty into the pool for the FIRST time ( exciting! )—there's a short clip of her in the pool on her Instagram so if you missed it on Snapchat, check it out.
I also put together this "what to pack for Punta Cana list." I spent 5 days in DR a few weeks ago, and COMPLETELY overpacked ( x10 )…
There were 6 of us on the trip, and I was the only one who checked a bag. AND, I still carried more onto the plane than anyone else. It was THAT bad.
But… Now that I know what it's like to spend a few days at a resort in DR, I'm sharing my tips with you.
ALSO, if you have general packing tips, please share! I need your help. LOL, THANK YOU!
Okay, here's what to pack:
Bikinis ( lots of them )
You basically live in your bikini all day ( or at least we did ) so bring plenty. We're off to a good start, aren't we? HA! ; )
Baby doll dresses / strapless cover-ups
… To throw on top of your bikini. These are super easy and lightweight, which is perfect for DR. The weather's really hot & you'll be in your bikini most of the time, so stick with outfits that aren't too fussy.
Maxi skirts & dresses
I love these for nighttime & dinner.
Crop tops
… To wear with your maxi skirt.  ( A maxi skirt + crop top is one of my favorite looks for spring / summer, in general! )
Flip flops
YES! So easy—slip them on and go. I recommend bringing one for the pool and another pair like these for nighttime.
Sunnies
Did I mention it's hot there? ; ) Take your sunnies.
A mophie…
I never used a mophie ( much ) before this trip, but now I'm in love! Take one with you to keep your phone charged all day.
Dainty jewelry ( always )
Dainty jewelry is always a good idea. Plus it's lightweight, which makes it easy to wear in the heat.
Sunscreen + beauty / skincare
Don't go without sunscreen, OBVIOUSLY!
Other items I recommend…
+ aloe vera ⇢ I SLATHERED sunscreen on my face, multiple times, and still got a little burnt. Take aloe vera with you to soothe and heal any sunburns you might get. Fingers crossed you don't need, but come prepared.
+ body oils & lotion ⇢ I took so many body oils & lotions, LOL. I LOVE this one body oil.
+ shampoo / conditioner / body wash ⇢ I forgot to bring these but I borrowed a friend's on our last day & it was sooo nice to have while on our trip—the shampoo / conditioner / body wash there wasn't that great, so if you're particular about your hair products and body wash, bring them. Plus it was nice to have a familiar scent from home while on our trip. Weird? I thought it was nice! : ) 
I also sprayed myself with this toning mist all day, every day. Read more about it here.
Also, quick tip—if you're packing a blowdryer / straightener / curling iron, consider leaving them at home. I brought all three ( surprise, surprise ), and I used my straightener ONCE, and I didn't even touch my blowdryer or curling iron. You won't need them.
Okay, have you been to DR? Anything we should add to the list? Let me know below.
Also, where are you going this summer… Any fun trips? Would love to hear!
<3,
Bita