Tahoe for NYE 2015 - A quick lil recap
01.18.2016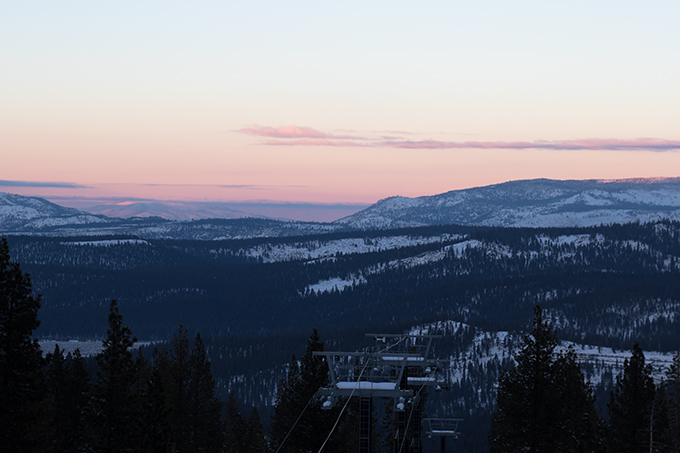 [ Gorgeous view of Northstar from our Ritz-Carlton suite ]
HELLO, HELLO!
Remember when I said I was oddly excited about it being fall/winter? ( Totally unlike me! )
Well, after a few weeks months of FREEZING I kind of started to wish it was summer already… ???
BUT…
Being in Tahoe for NYE & the start of 2016 was REALLY MAGICAL, and if a Tahoe trip, or trips, are in the cards every winter, I'm totally game for a few chilly months.
Quick recap: We stayed at The Ritz-Carlton, Lake Tahoe for the first few days, rang in the New Year with champagne & watched the fireworks… Super relaxed & laid back!
The next day, I learned how to ski at Northstar and then the day after I ATE IT at Heavenly, LOL.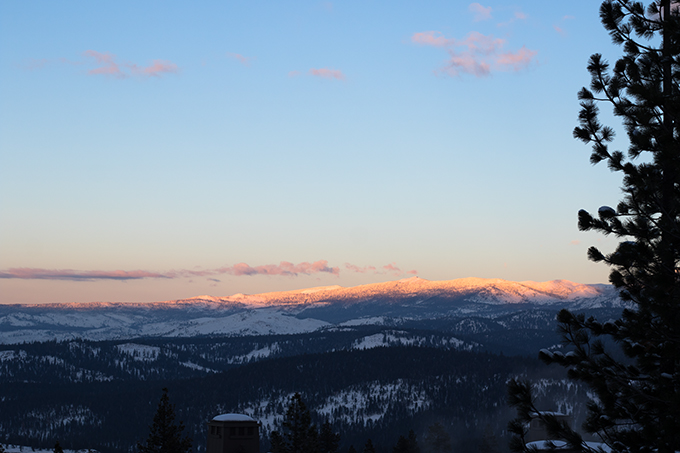 [ Northstar from our Ritz-Carlton suite ]
That wasn't the magical part. ; )
Here's the backstory: We went on greens & easy blues at Northstar… I learned how to "pizza" & move my hips, and built some confidence… & then we went to Marriott's Timber Lodge the rest of the trip to ski Heavenly ( which was DREAMY!!! ??? ).
So it's my second day of skiing—ever—we go on the California side & do a bunch of blues & then we take a little break on the mountain to have chili & Stellas ( my favorite beer ). We go on one more, quick slope on the California side, and then head to the Nevada side so we can get back on the gondola before it closes.
Here's where it gets interesting… ?
This thoughtful, Heavenly employee tells us we only have 10 minutes to get down to the gondola…
No problem. Right?
WRONG.
LOL.
Did I mention I'm a newbie?
We end up going on blues I had no business being on, I tumble down like a roly poly ( LOL, twice! ), and take SO long getting down to the gondola, we miss it. And all the lifts are closed.
So…
We end up going down the ENTIRE mountain, ourselves. Very, VERY, slowly.
…
?
We take so long the Heavenly team gets down at the same time we do ??? ( but they whizz down! Some with pups—super, super cute! )
All in all, it made for a good story, and no one got hurt, except my ego… LOL. ; )
But, I'm actually really happy with how I did. Now that I've had a little break, I'm ready to hit the slopes again! ; )
For me, skiing was WAY more enjoyable and intuitive than snowboarding, which I did in high school but never well, LOL. So I'm definitely sticking with the skis!
What do you prefer: skiing or snowboarding?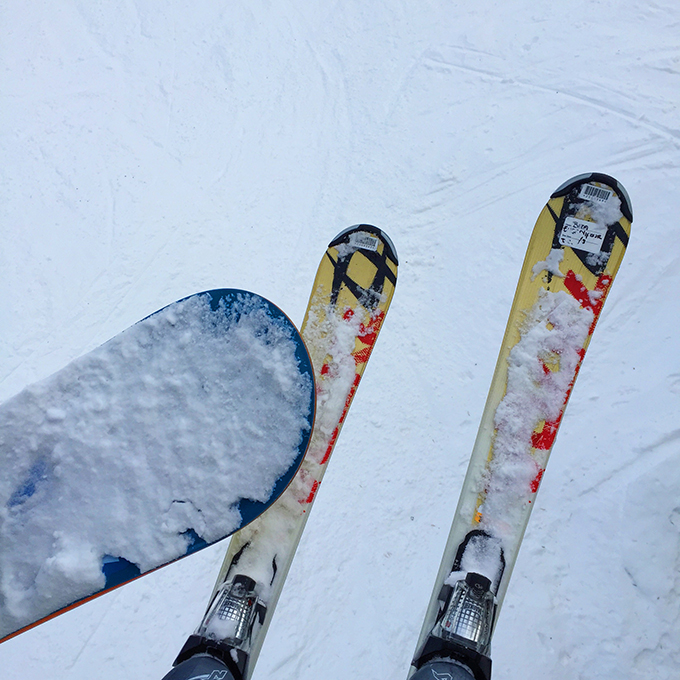 [ On the lift… Trying really hard not to drop my cell phone. ; ) More on IG ]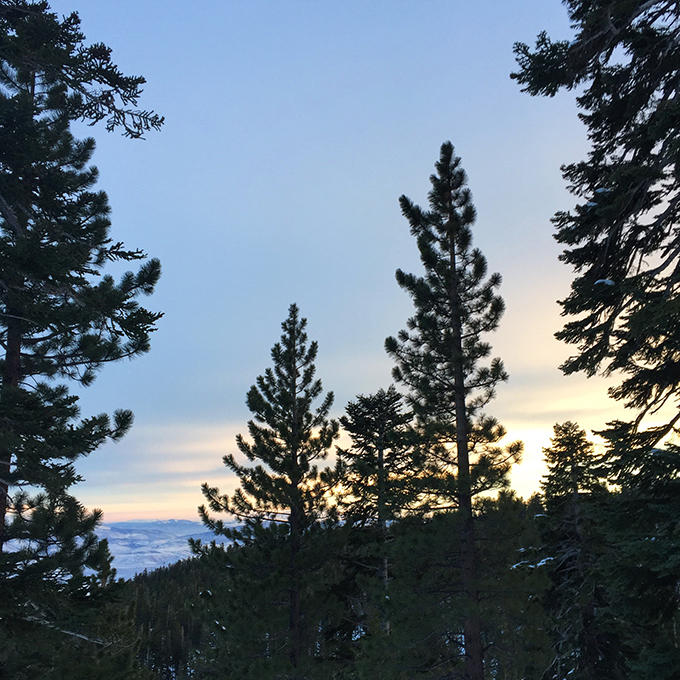 [ Heavenly, from my iPhone—more on IG ]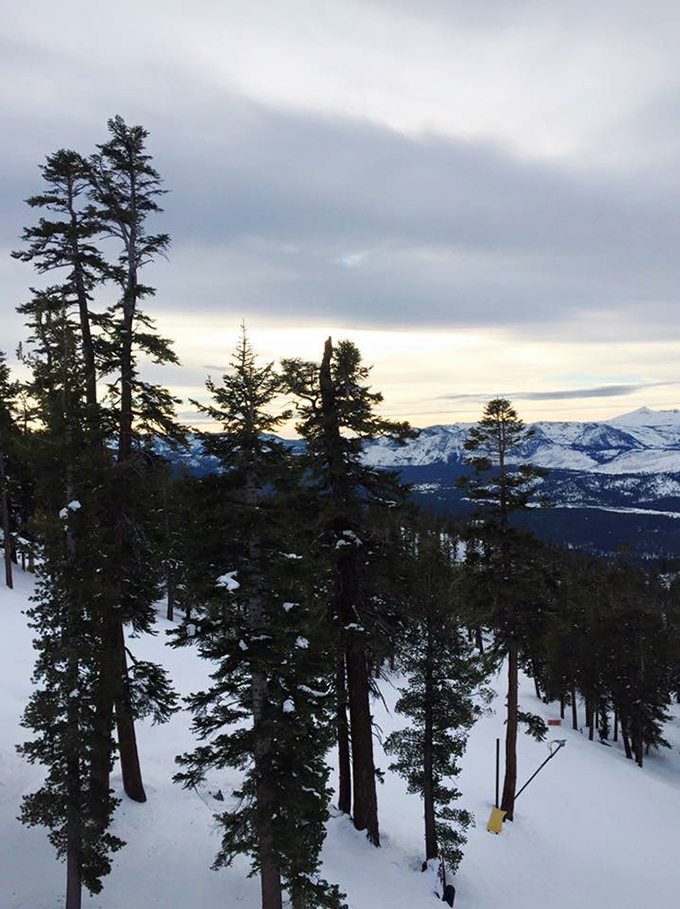 [ Gorgeous Heavenly!!! ??? via iPhone, more on IG ]
Also, a quick 'lil food/drink reco if you're heading to South Lake Tahoe…?
OH. MY. GOD. It's like I died & went to heaven. LOL. Let me tell you: Before I went, I heard SO many great things about their Thai Chicken Pizza—& you know how sometimes when you finally have something you've been hearing such great things about for so long it's kind of a let down… Like what was all the hype about? NOPE. NOT HERE. You'll be SO satisfied! I had their pizza ONE NIGHT & all of a sudden, it still hits me: I want need Thai Chicken Pizza. Specially, from Base Camp! ( I have this same feeling about The Sea's hamachi shots & salmon… SO GOOD!! ).
This trip also gave me some outfit ideas for Tahoe, so stay tuned for that this week.
XX! Chat soon.
<3,
Bita
Shop my Ski Trip favs: