Quick tips for an at-home summer picnic
08.18.2020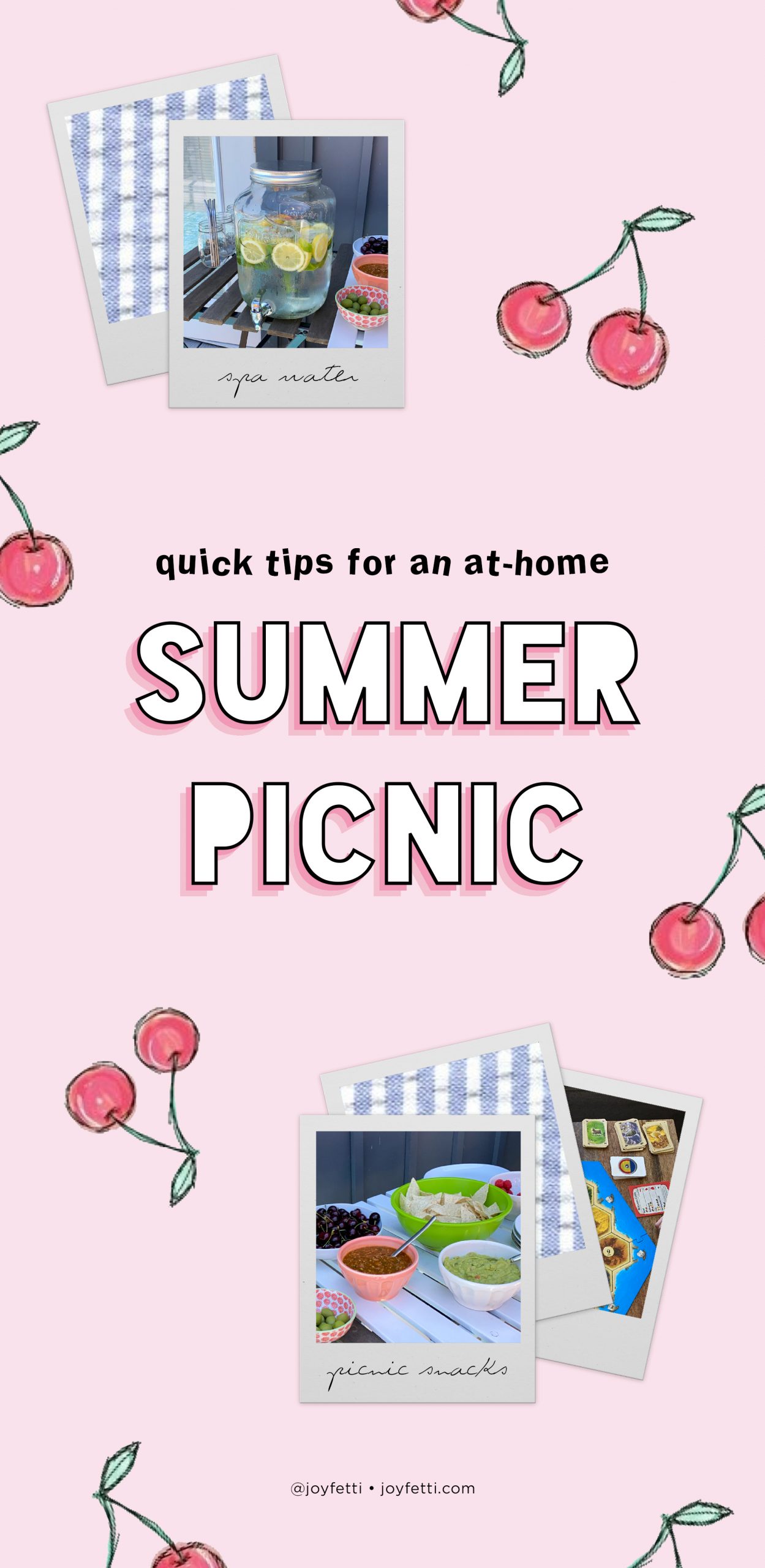 About 2 months ago, we put together a little rooftop picnic to kick off summer for our niece & nephew who had just finished 6th grade. I thought it'd be fun way to celebrate them completing their first year of middle school & a fun way to start their summer.
We made spa water, put out some fresh fruit & snacks, played music, & laid out these cute outdoor blankets, so we could lounge around & relax!
After we picnic-ed, we took it inside, & played a round of Settlers of Catan (Arrash won—he usually wins this game). After the game, we had dinner (vegan, gluten-free mac & cheese, and salad) & then we had a little movie night. We watched Star Wars: The Force Awakens (the kids hadn't seen it yet) & enjoyed some popcorn—Angie's Boomchickapop sweet & salty kettle corn—it's soo good! I love getting this popcorn for get-togethers.
If you want to put together a little picnic at home, here are some quick tips!
Quick tips for an at-home Summer picnic:
BLANKETS/SEATING
Lay out some cute picnic blankets.
There's something so summery & relaxing about laying on a blanket, don't you think?
MUSIC
Put on some fun, summery music.
I put together this JOYFETTI Playlist: Summer Picnic on Spotify & I've been listening to it non-stop since our picnic.
FOOD/SNACKS
Put out some simple snacks, like fresh fruit, chips & salsa & guac, olives, & any go-to appetizers you can quickly whip up.
I had big plans of making some new appetizers in time for the picnic… & then I was running late (shocker, kidding)—so I went with some of our go-to basics when we host. We had cherries & raspberries—yum!!, Siete chips, guac & salsa, & Castelvetrano green olives. I love these olives!
DRINKS/REFRESHMENTS
Make some delicious spa water—it's SO refreshing!
I filled our drink dispenser with water (filtered through our SOMA filter), ice, fresh lemon slices, & fresh mint. It's sooo good, simple, & delicious!
If you're looking for a drink dispenser, we have this glass drink dispenser from World Market, which we've been using for years. I've also been eyeing this all glass drink dispenser from Container Store—the lid is also glass, which I like—so I recommend checking these out.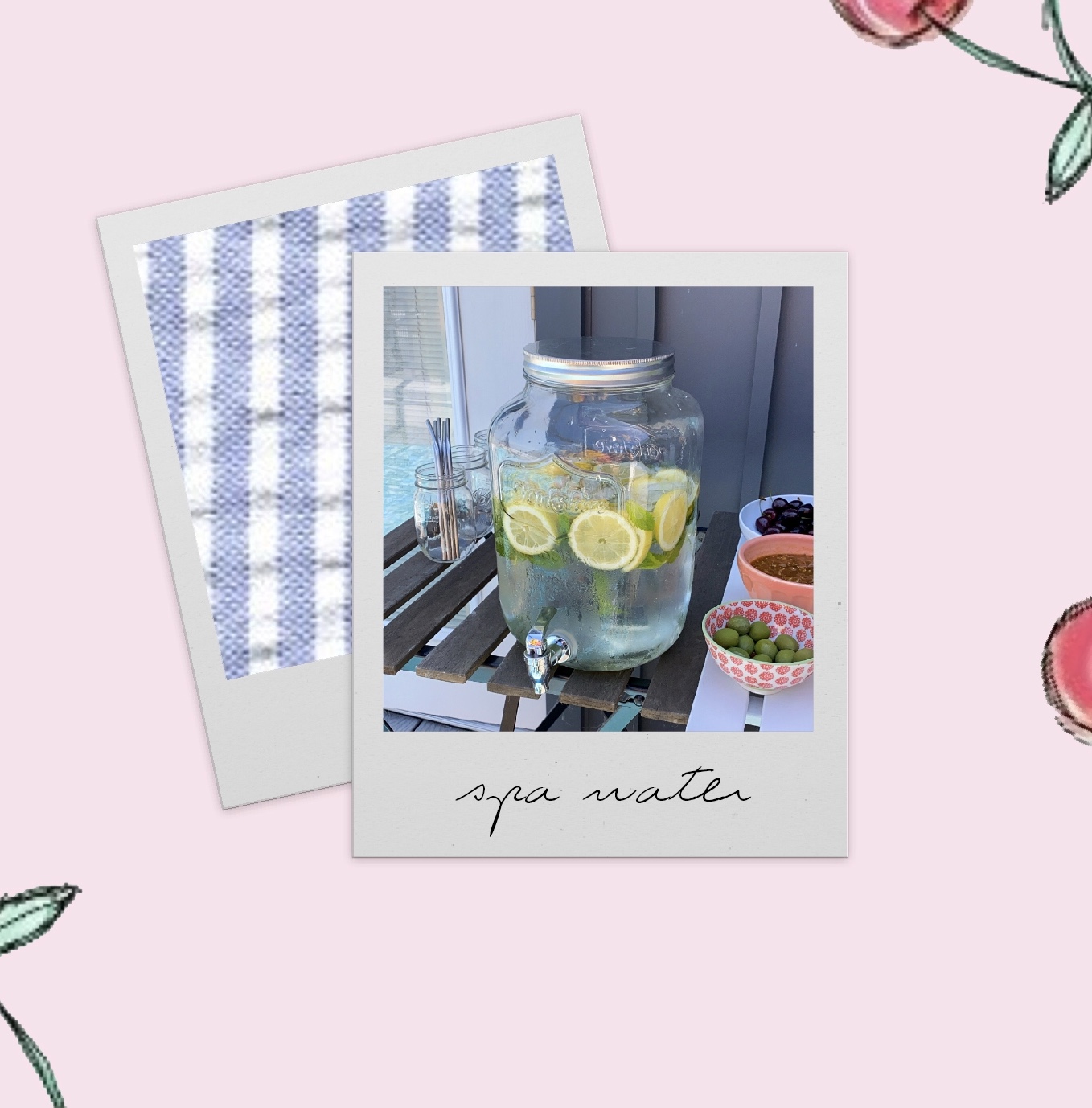 [ Our glass drink dispenser from World Market—I've also been eyeing this all glass drink dispenser from Container Store. ]
You can enjoy your picnic inside too!
Last night I was laying down on a blanket in our living room & it felt so relaxing & picnic-y inside too. There's something about sitting on a blanket on the floor that works for me. Ya know?
So if you're looking for a fun summer activity to enjoy at home, or a fun way to kick off the school year (our niece & nephew just started online this week), whip up a nice little picnic & enjoy! Especially right now, as so many of us are staying home & sheltering-in-place, it's a great way to have some fun & relax! You can use it as a date night activity too.
If you put one together, share your pics on social & tag @joyfetti so we can take a peek! : ) Happy picnic-ing!!
Chat soon!
<3,
Bita
+ some fun games you can play while you picnic
+ more shelter-in-place date night ideas
Hosting faves: