Must-Haves for the Babe Who Runs Outside
06.21.2016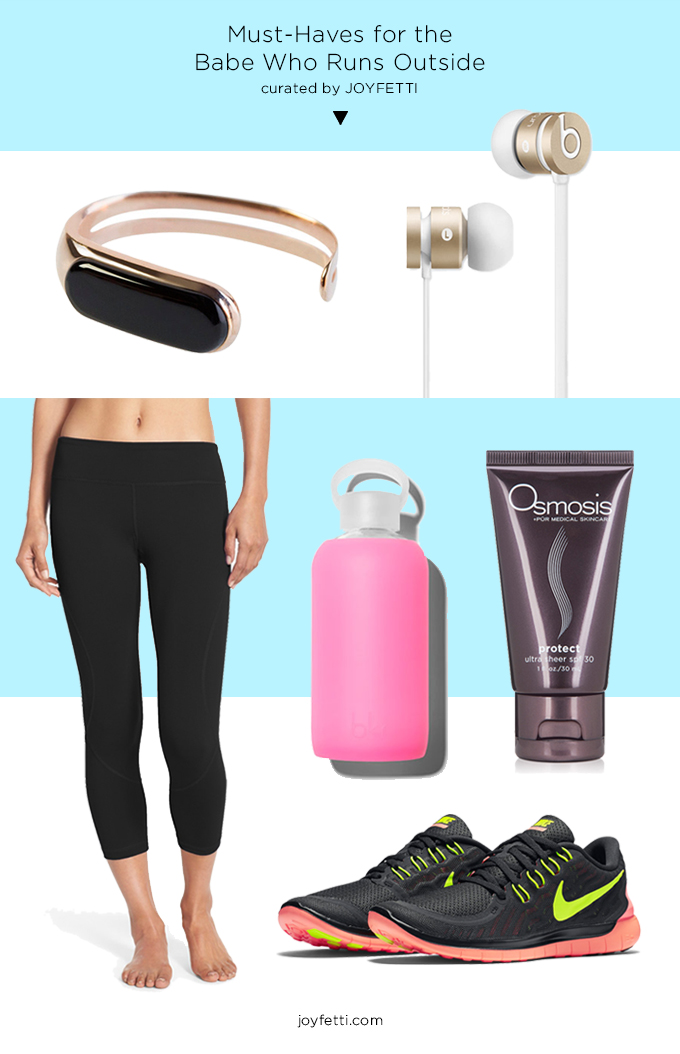 Running is one of my favorite ways to break a sweat—& it's kind of like therapy.
It's one of the few workouts where I actually focus on my movement & get away from my thoughts / work / etc… If I'm having a bad day, I run. Lately, I've been getting back into running in the morning & it's been AMAZING. There's something about starting the day with a run that's so freeing and energizing. I LOVE IT!
Are you a runner?
If you enjoy running outside, like I do, these items are for YOU! & if you're not, maybe they'll motivate you to give it a try. ; )
First up…
1. A MIRA BRACELET
I've been using Mira for a hot minute ( 2-3 days, LOL! ) BUT I'm already so in love with it. Hear me out…
Before Mira, I just used the Stepz app, but I wanted something I could wear that was more accurate ( i.e. tracked my steps while I worked out, moved around the house, etc… ) that didn't make me cling to my phone ( because I do enough of that already ).
Mira syncs with my phone ( through their app ) and is so clean & easy to use. Isn't it cute?
I put it on like a bracelet when I wake up & wear it throughout day. It's been giving me a nice mental switch… When I put it on in the morning I know it's time to tackle the day & when I take it off before bed I know it's time to wind down & go to sleep.
If you're a runner ( & even if you're not )… Take a look at Mira. I have it in their Polished Rosé All Day color & I love it!
AND—BTW, it's on sale right now. WOO!
Honestly, the gold color got me & their reputation sealed the deal.
These earbuds are GREAT for running. If you follow me on SNAPCHAT ( username ⇢ joyfetti ) you already know this. ; ) I always listen to Spotify or Pandora when I'm running so a good pair of headphones is VERY necessary. My run is 543482948394935 more intense & amazing when I'm listening to music while I run.
If you're looking for new music,  follow me on Spotify to check out my favorite Spotify playlists and to listen to the JOYFETTI playlists.
3. ZELLA 'LIVE IN' CROP LEGGINGS
I've never been gung-ho about a pair of leggings until I tried these. I know it's weird to talk about a pair of leggings like this… But they really SUCK YOU IN. So weird, I know… But it's true. The fit is amazing, and so is the quality. I guess that's why they called them "live in" leggings, you'll want to live in them.
4. A BKR WATER BOTTLE
I tried running without a water bottle the other day & it just wasn't as good. I got thirsty and sounded like a dog that's dehydrated ( LOL, because I was dehydrated—it's hot out. )
Plus, why not drink water when you work out? It's a win, win…
I like the 500 mL bottle for running & workouts in general.
5. SUNSCREEN ( !!! )
This is a big one! When it comes to running outside ( especially during the summer ) one of the most important things to remember is to put on sunscreen.
5 years ago you wouldn't find me preaching about the importance of putting on sunscreen, but times change. ( THANK GOD! LOL )
I've come to realize the QUALITY ( & health! ) of my skin is MUCH more important than the color. So no thanks to a little runner's tan ( or really, burn ), I'm much more interested in keeping my skin smooth & healthy. You can't replace your skin… Think about it.
One of my friend's, Kheri ( she's an esthetician ), recommended Osmosis Protect Sunscreen, and I love the feel & texture of it. It's the only sunscreen I've tried thus far that I actually look forward to putting on. It feels like a quality skincare lotion. It's that good. Plus, it doesn't say this… But I feel like it's kind of tinted ( kind of )—it doesn't have that typical, gross, cake-y white color most sunscreens have. In the description it says it's "sheer" & it totally is—& it smells good.
Unheard of right… A sunscreen that smells good? It does. Try it out & LMK how you like it. : )
I have the 30 mL bottle right now, but I'm planning to get the 200 mL when I run out. I put it on every day now.
I've been running in Nike Frees for yearssss now. I love that they're cute and petite ( not too chunky like some sneakers ) & they're comfortable for me. Find a pair of sneakers that work for you, and are comfortable and provide support, and be sure to get a new pair when they start to feel funny.
The lifespan of a pair of sneakers varies depending on the shoe and how often you use it, but generally experts say it's time to get a new pair after 300-500 miles. I usually notice it's time for a new pair after 6 months to a year. What about you?
BTW, for those of you who hate running, I use to hate it too, but now I LOVE it. It's such an INSANE workout and it feels soooo good! I've been running for 7 years now ( as an exercise ) & let me tell you I definitely see a difference between my face & body when I'm running consistently. I look & FEEL way more lean.
PLUS, it's one of the BEST forms of therapy for me.
LMK if you give it a try! : )
<3,
Bita
Shop this post: