Lovey-dovey hearts
02.10.2017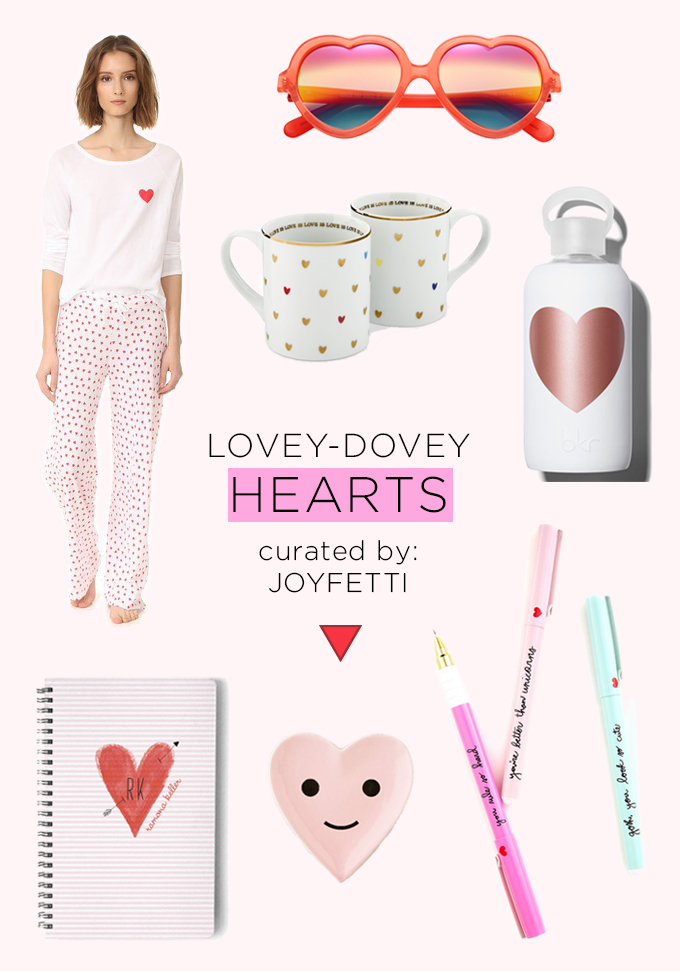 HI GUYS!!!
Happy ( almost ) Valentine's Day!
Do you guys notice all the pinks, reds, and hearts in every store? LOL, it's hard to miss.
Since it's almost Valentine's Day I figured it's the perfect time to share some lovey-dovey heart items with you.
Side note… Once, when I was living at home ( I think it was about 2 or 3 years ago ) my mom looked around at all the stuff I had around ( my laptop, my laptop case, all of Minty's things ) and said with such disgust ( & in Farsi ), "I think I'm going to puke if you bring one more pink thing into the house."
LOL. Whoops! ; )
So, when it comes to furniture and home design I lean towards neutrals ( usually white )… But when it comes to things, I love pink & I love hearts. LOL. Am I 5? ; )
Alright, enough about me… Let's get into these cuties!
Okay, so obviously I had to find us some PJs with hearts on them—so perfect for Valentine's Day! ? If I'm splurging on PJs, it's definitely for these.
These are basically the grown up, "I'm into fashion but I make own rules" version of those bright red, heart-shaped sunglasses we all wore when we were little. Remember those? Definitely another splurge, but I'm always down to window shop ; )
These mugs are adorable ( !!! ) & even better, I love their message—the inside says, "love is love is love" all around. So perfect for Valentine's Day & really every day. Makes for a great gift idea too!
I'm OBSESSED with my bkr bottles—& you most likely already know this. This one is especially great for Valentine's Day. I also love this black / copper one & this baby pink / silver one. Super cute!
Okay, so I'm a big fan of writing things down on paper so I'm always kind of on the hunt for cute notebooks. This one is fun & personal because they print your name & initials on it, which I love. Also, Minted has great products. I love their quality.
ban.do is SO MUCH fun—this is the perfect dish to have on your nightstand. Doesn't it just make you smile? : )
These pens are great! They're cute but practical & also look great on Instagram ( let's be real, that's part of their appeal ; ) LOL ) But really, they're great pens—I love writing with them.
Okay, how are you guys getting ready for Valentine's Day?
If you're looking for a quick and easy VDAY recipe ( something sweet ), definitely try these chocolate covered strawberries. They're delicious & VERY easy to make.
<3,
Bita
More lovey-dovey hearts: