How to throw a party
04.11.2017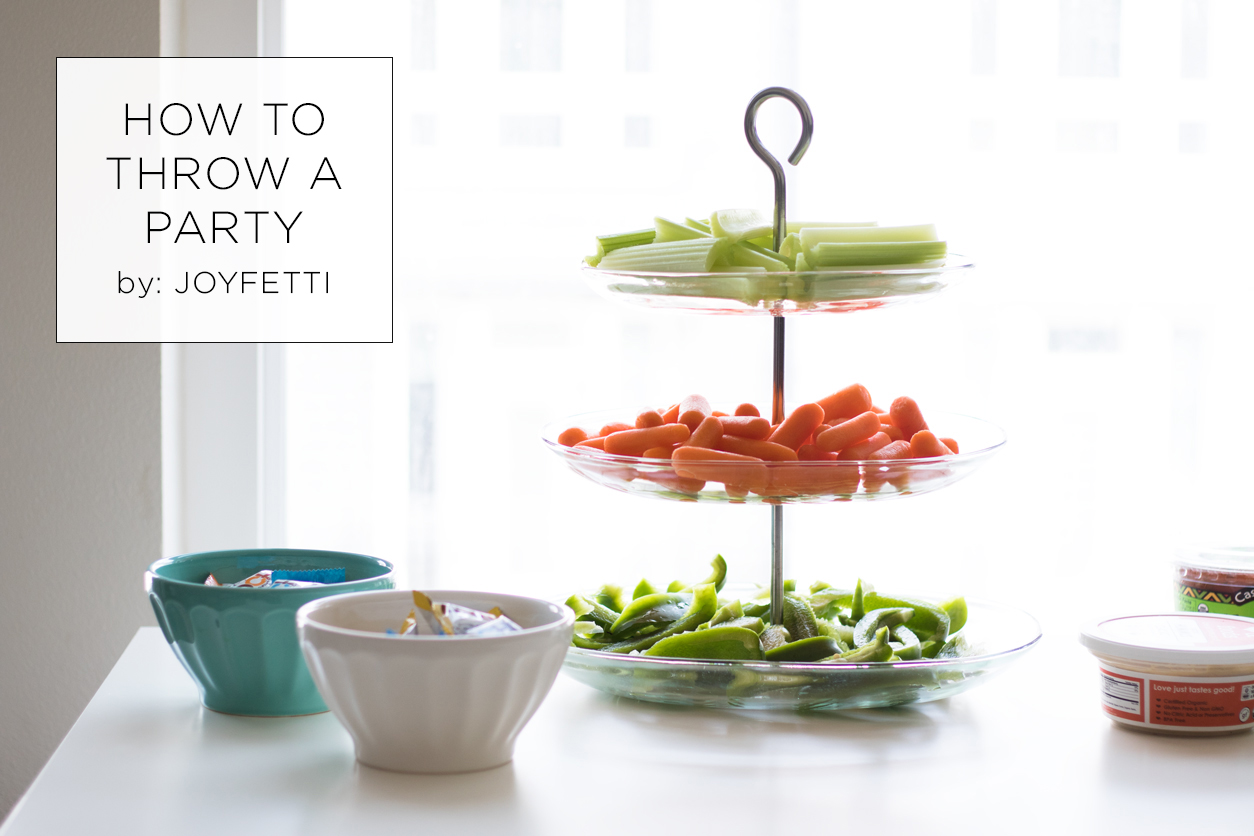 Alright, before we get into it, I feel like we need to set the scene.
College parties were pretty basic… Cram everyone into a house & drink. Or was that just SDSU?
Now that we're in our 20s ( late 20s—GAH! ) parties are definitely a little different so these are my tips for throwing a party now that we're a bit older.
Is it ironic that this is tip #1? Let's go with it…
If you're serving alcohol, create a drink station so guests can make their own drinks. This makes it so much easier for you to mingle and for everyone to get a drink if they want one. No delays.
Even if you're making drinks for friends / family everything is laid out so it's much more efficient.
If you can, provide a few different types of alcohol, a bowl of ice ( with a large spoon or ladle ), mixers ( I always include Perrier or Pellegrino ), plastic cups, straws, & slices of lemon and / or lime—these also come in handy when you convince everyone to take shots with you ; )
( P.S. even if you're not serving alcohol—I still recommending making a drink station without the alcohol, because it's still very convenient & you can play around with it and make it cute )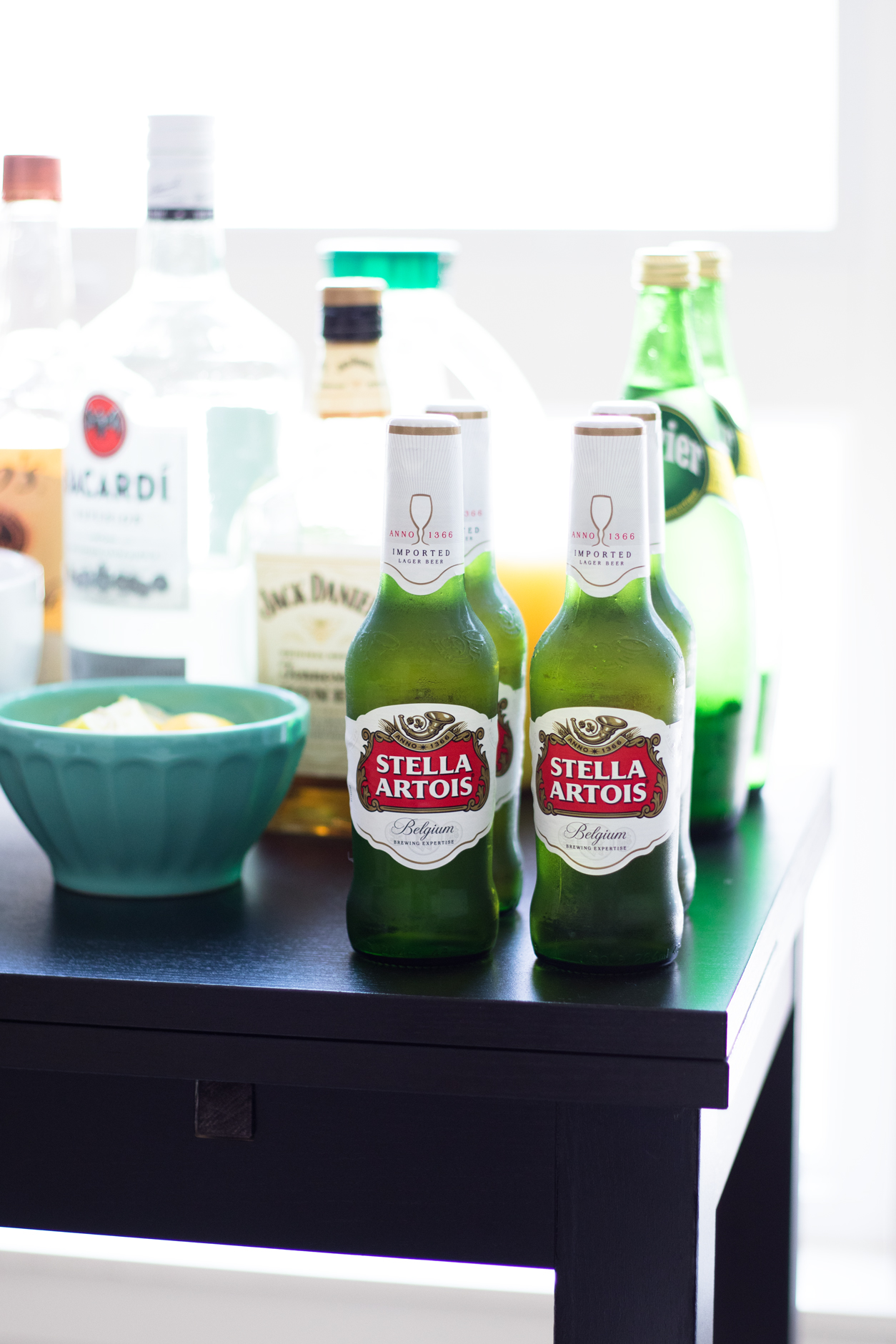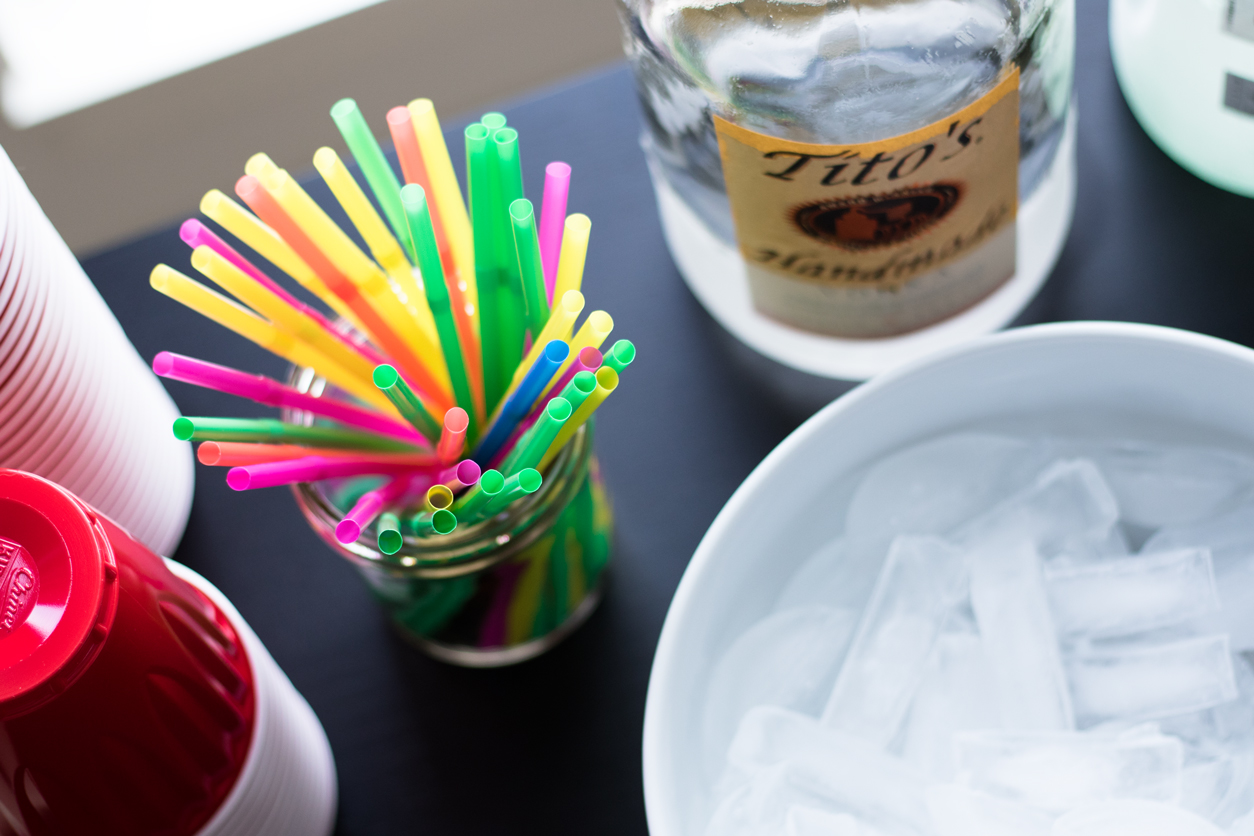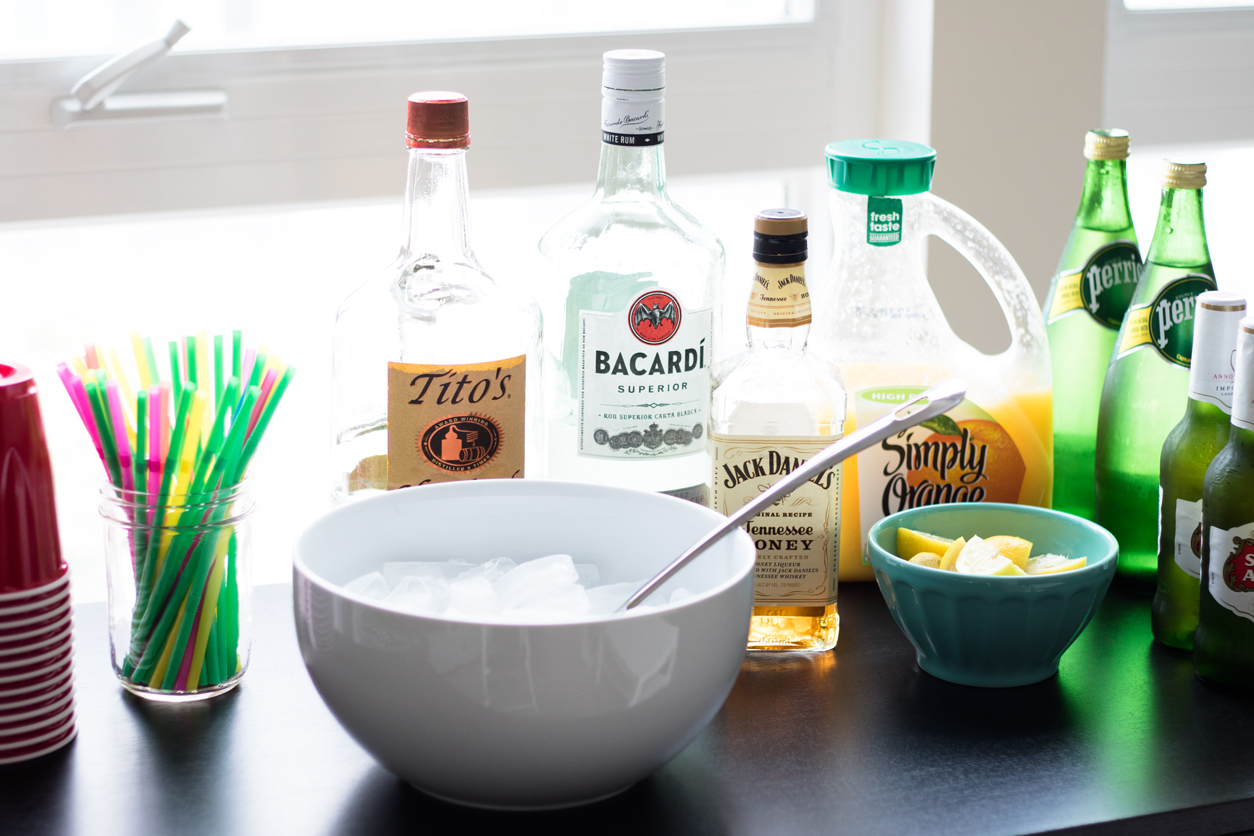 Have a mix of healthy & not-so-healthy snacks ( it's a party—live a little )
I like to offer a variety of snacks so everyone can find something to munch on ( hopefully! )
I usually put out fresh veggies and hummus, some fruit, and the usual chips / salsa / guac. Oh and cheese and crackers, and popcorn. And sometimes nuts. I sometimes go a little overboard.
Also, I love those spicy Takis chips so I usually get those too. I use it as an excuse to have a little bit of something I'd probably never keep in the house. They're just so good. It's a problem.
My friend Jodie was helping me prep for a surprise party earlier this year and she put out a couple bowls of candy and chocolate & I loved it—everyone loved it! So from now on I always put out bowls of candy and chocolate during parties. They look super cute in these Anthropologie bowls.
OCHO is my favorite right now & these bite-size, wrapped OCHO minis are perfect for parties.
They also have these egg-shaped ones right now that are perfect for Easter.
Cool little tip… Chill your OCHO's in the fridge before the party ( & after, if there's extras, but I doubt it… ) because it'll keep the chocolate shiny and it just tastes really good chilled. Try it!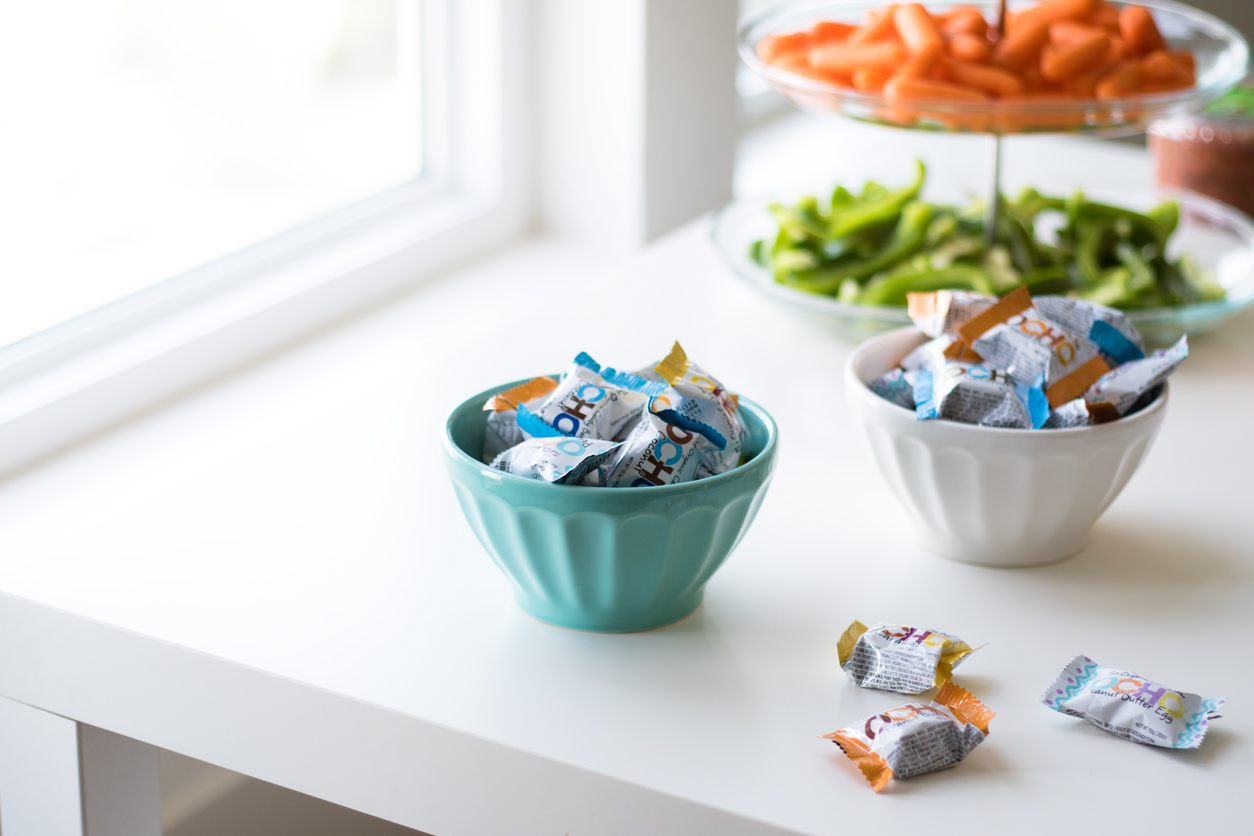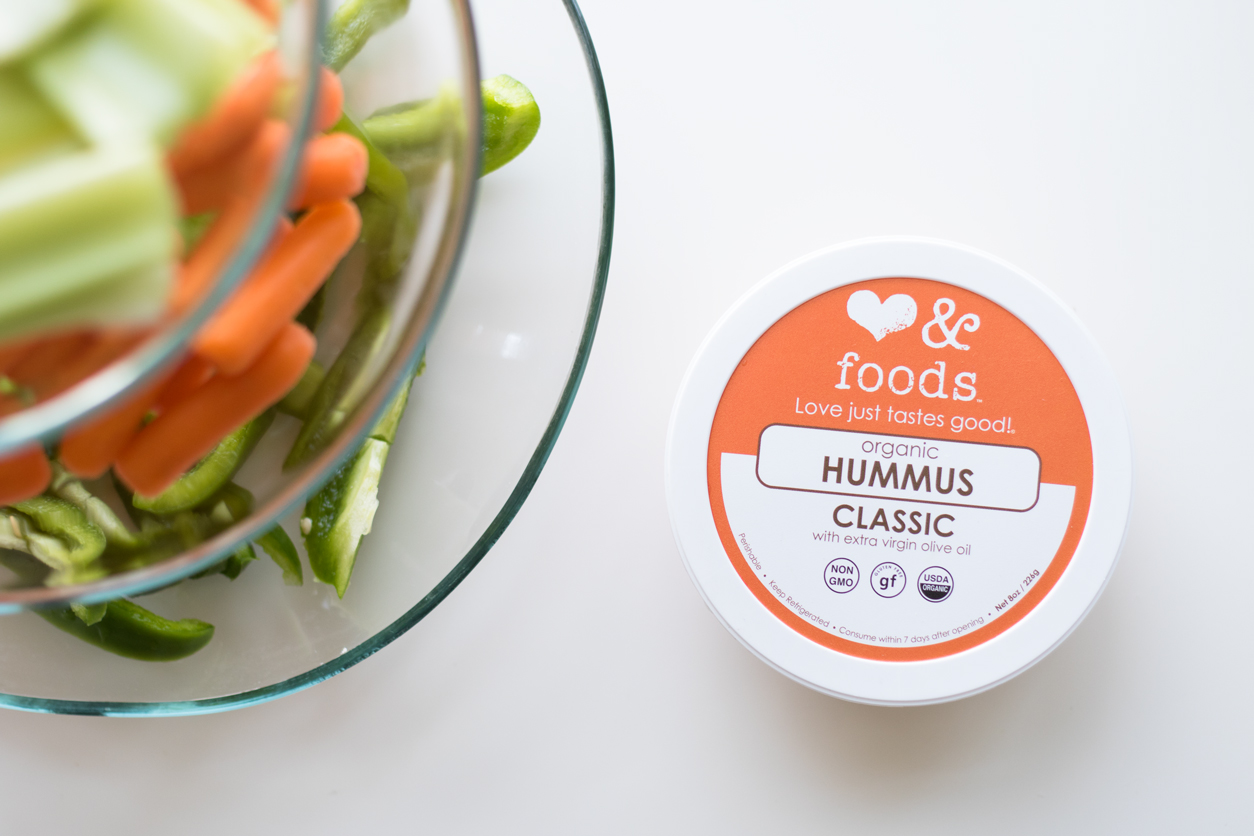 Have some finger foods you can pop into the oven
If there's alcohol, you're going to get hungry. And so will your guests.
Honestly, even if no one's drinking—you're going to want more than snacks after a few hours. That's why late-night eating is a thing.
So plan in advance and get some frozen appetizers you can easily heat up in the oven after a couple hours.
If I'm hosting more than 10 people I like to pick them up from Costco. Otherwise, I usually pick them up from Trader Joe's. I look for finger foods and make sure there's a vegetarian / vegan option in the mix. Last time, I got dolmehs ( dolmas ), potato samosas, and orange chicken—we put toothpicks in the orange chicken to make it a finger food.
Obviously… No surprise here. I love playing music on our Amazon Tap. Easy peasy, and the sound is great.
Am I a kid? Maybe? I love games. & apparently my friends & family do too, or I'm just really good at convincing them to play with me ; )
Some fun games to play after a few hours of mingling… Card games, Cards Against Humanity, Phrase Party ( download the app )… Anything you can play as a group that hopefully makes you laugh and get a little competitive… It's all in fun.
Okay, these are my tips. What are yours? Tell, tell.
Chat soon!
<3,
Bita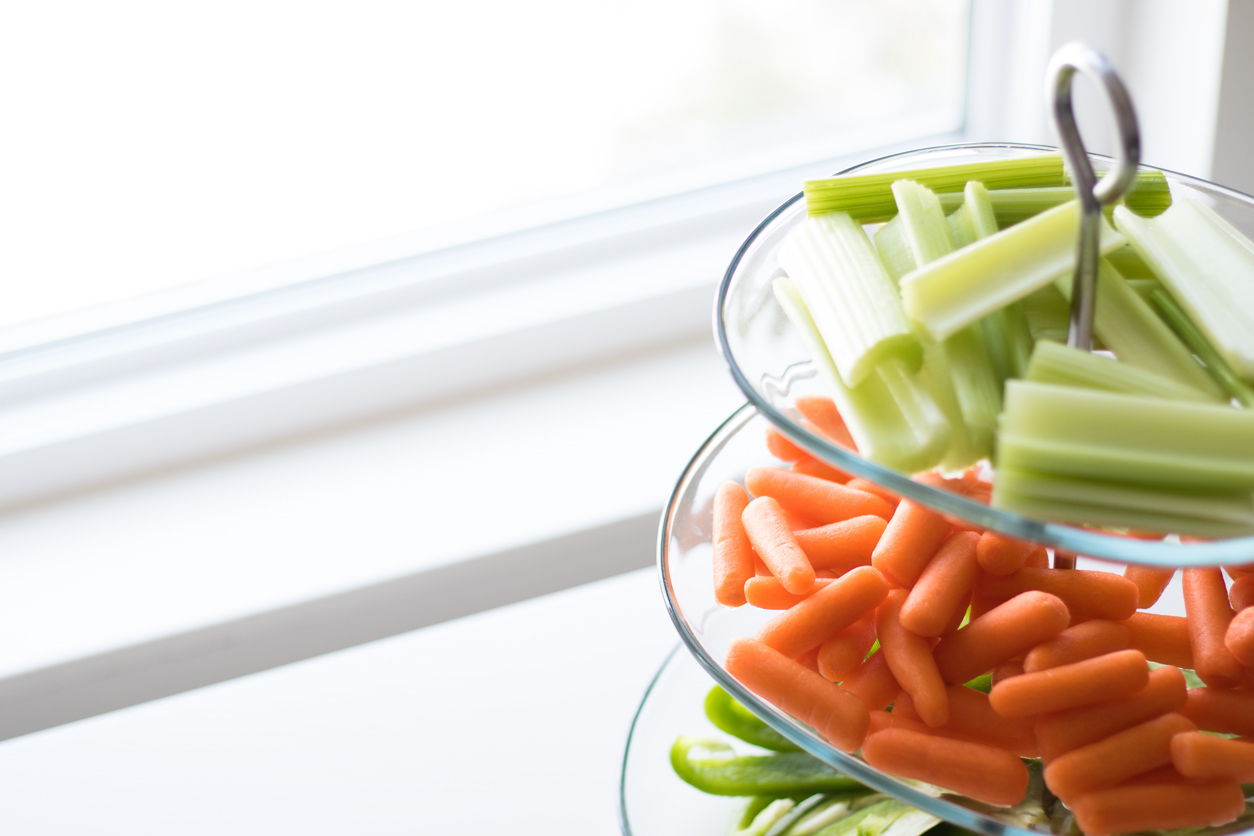 Shop party essentials: