Where to find cute vegan handbags
01.29.2020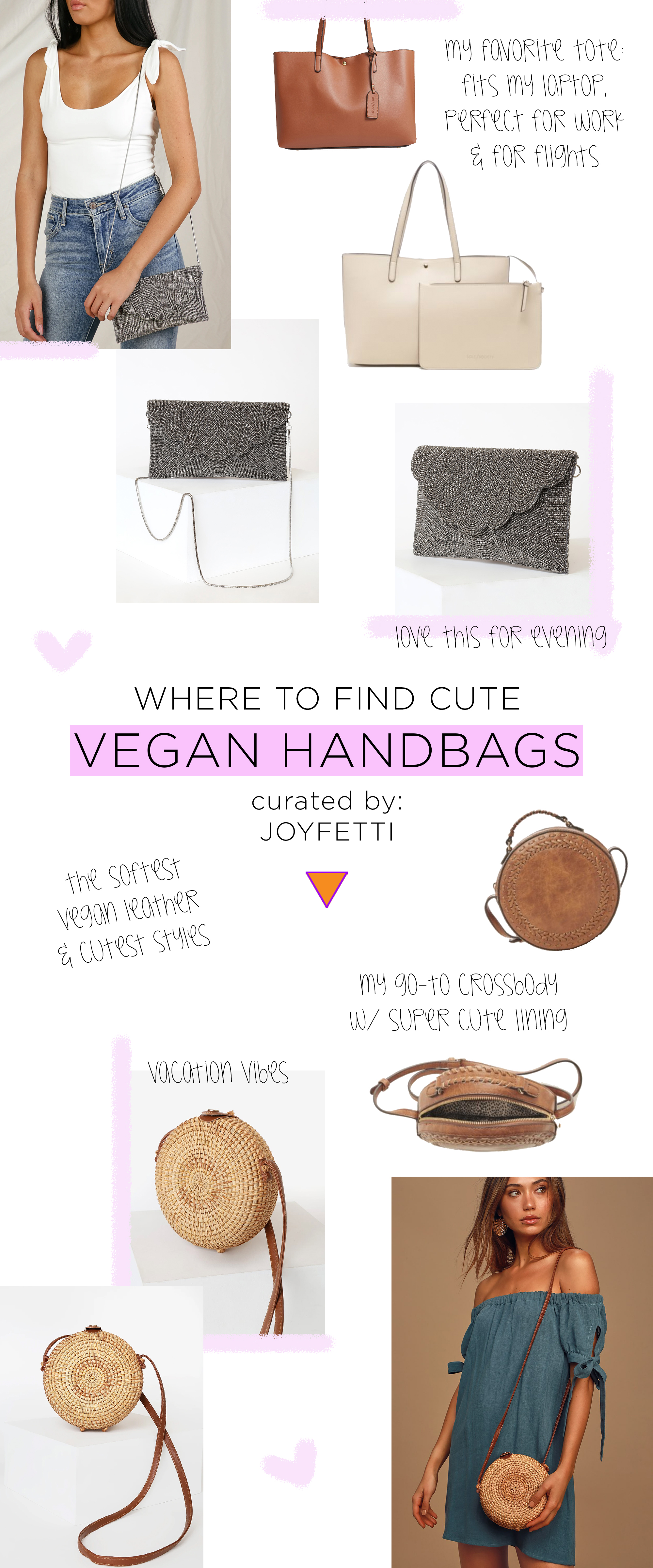 If you're looking for vegan handbags that look & feel amazing, check out these 2 websites: Sole Society & Lulus.
They both have vegan handbag sections on their sites, which makes shopping for vegan bags super easy! Both of them sell items that aren't vegan, too, so shopping through the vegan sections makes it easier to find what you're looking for.
You can also shop Sole Society at Nordstrom, which is how I originally heard of them. They caught my eye in store.
& BTW, almost all of the vegan heels & sandals I wear right now are from Lulus. I'm OBSESSED with them! They have cute & comfy vegan heels & sandals of all heights & styles. They also have a "vegan shoes" section on their site, which makes shopping for vegan shoes super simple, too.
These, for example, have been my go-to heels since I bought them in 2018 & I LOVE THEM! I wore them for the first time at our friends' wedding in the French countryside that September, with a sleek black dress. They're super versatile. I also wear them with skinny jeans whenever I want to dress up a casual look for the evening. I love shopping Lulus for vacation looks so I did a big haul before that trip. They have an easy return policy too. You can easily ship anything you don't like back, for free, as long as it's within 10 days of the day it arrives. Convenient!
Okay, back to what we came for: THE CUTE HANDBAGS…
Here are 4 vegan handbags that'll make you swoon:
Sole Society Zeda Tote
I got this in cognac about a year ago & I wear it all the time. I use it whenever I take my laptop with me, & anytime I need a little more space in my bag. I also take it with me on all my flights. It's the perfect work bag, & perfect as a carry-on/personal item when you fly, or whenever you need a little more space in your bag.
Lulus Junipero Silver Beaded Clutch
This one caught my eye the other week and I bought it for evenings and engagements/weddings/more formal celebrations. I'm also planning to wear it with jeans and heels when I want to dress up a casual look for the evening. Probably with these heels! It came in the mail about a week ago & I LOVE how it looks in person too. It's SO CUTE!
Lulus Sunday Stroll Tan Rattan Purse
I bought this the other week, same as when I got the clutch, & absolutely love it! It's so cute in person & surprisingly lightweight, which I think is great for travel, especially to tropical destinations or places with warm weather. I definitely plan on wearing it in Hawaii & Miami soon. I've been looking for this style of Bali bags for a long time now, but this is the first one I've seen that's vegan (the other ones use real leather)—so I was super excited when I saw it online at Lulus!
Sole Society Anora Crossbody
This is my go-to crossbody! I got this one about a year ago, same as when I got the tote, & I LOVE how it looks & feels. I wear it all the time. This & the Zeda Tote are the 2 bags I've been wearing most often this year, ever since I got them. This crossbody went on sale the other day (so of course I tweeted about it to let you know! If you use Twitter, find me at @JOYFETTI). It's not on sale anymore, I just checked, but it's still a sweet price for how often you'll likely wear it.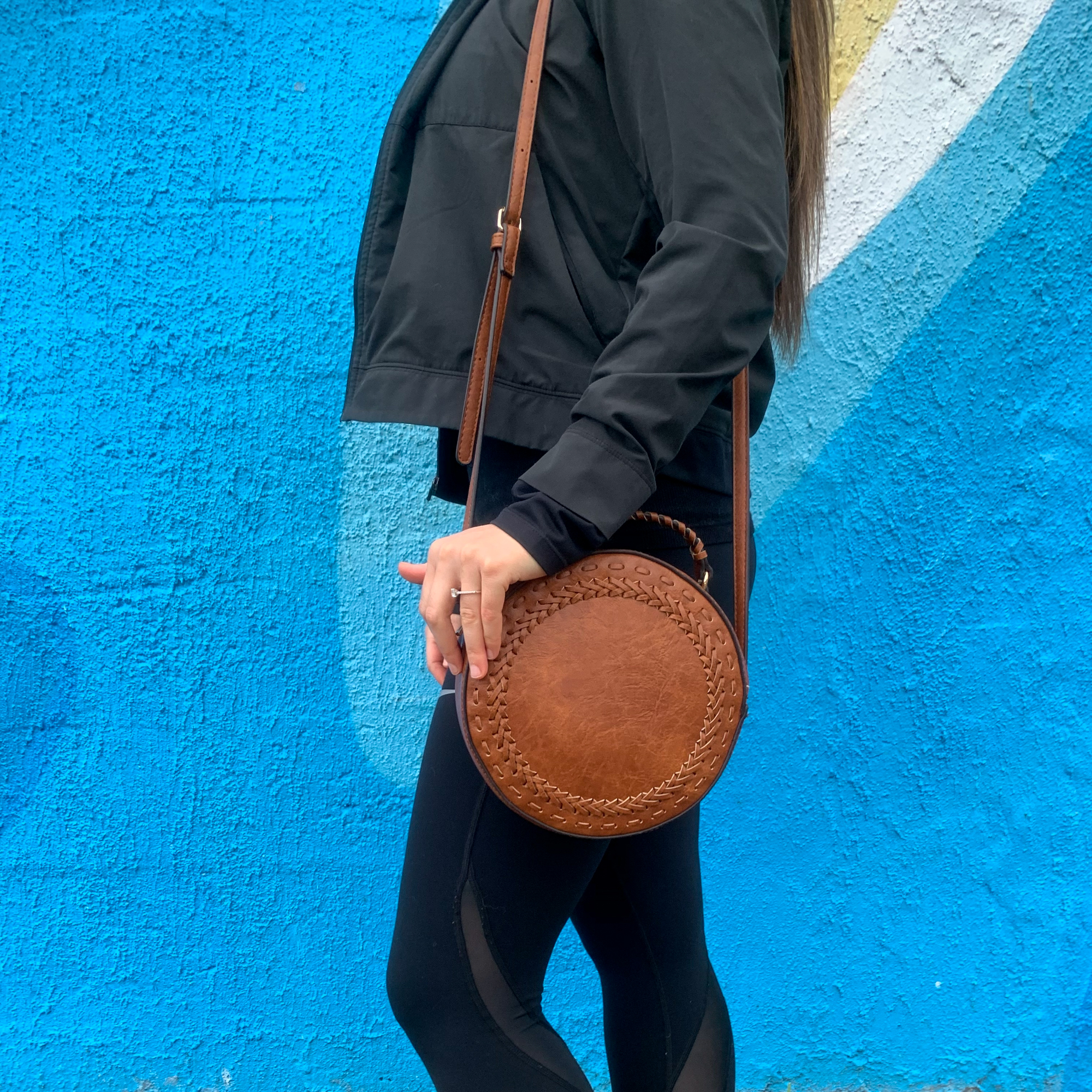 [ Me, wearing my Sole Society Anora Crossbody in Wynwood Walls, Miami this past December ]
LMK what other places you go to to shop for vegan bags.
& LMK, too, if you want a post on vegan heels/sandals! I can put one together : )
<3,
Bita