Snuggle up in These Cute, Cozy Socks!
11.23.2016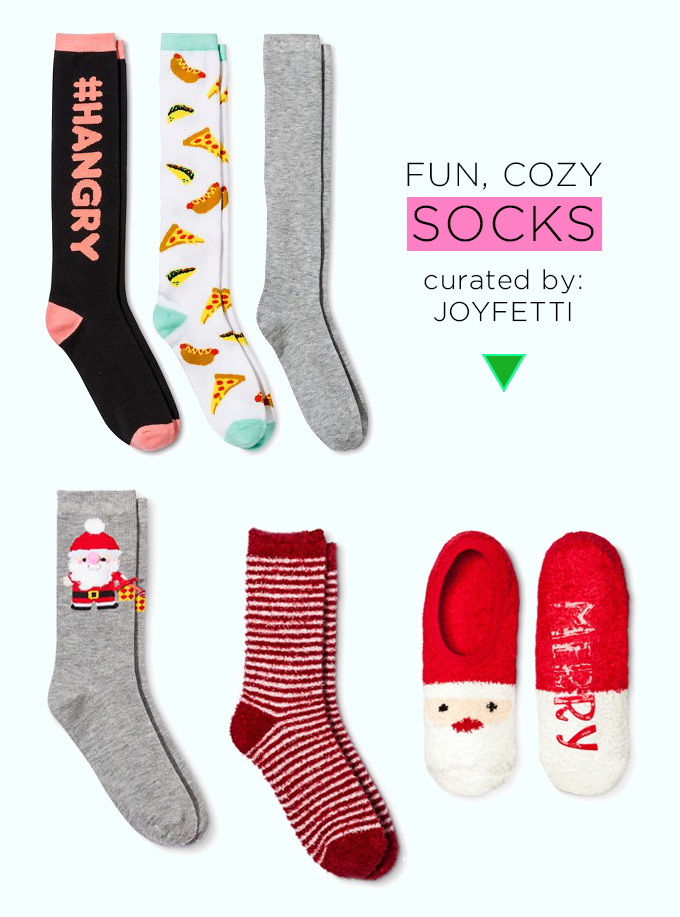 [ All from Target & $6 or less! LOVE IT! ]
Hi guys!
If you know me, you know I'm always cold.
My idea of perfect weather is when everyone else is dripping with sweat.
So, as you can imagine, I've been pretty cold the past few weeks. Which is why I started looking for some cute, comfy socks to wear around the house.
Picture yourself snuggled up on the couch in some cute loungewear and a pair of these socks sipping on a hot toddy ( full disclosure… I've never tried a hot toddy but I really want to try one! Maybe I'll make one this week. )
So I went straight to Target ( .com, LOL! ) because I feel like they always have cute, seasonal socks that don't cost a fortune.
These are all $2-$6 ( !!!! ) LOVE IT!
Okay, I love these because they couldn't be more perfect for me. Yes, I get hangry. Don't you? ; )
These are just so cute. I love Santa's little nose.
Don't these remind you of candy cane? I love 'em! This shorter version is cute too!
This is perfect when you want to keep your feet warm, but you don't want to cover your legs. If you like pull-on socks, check these out too!
Okay, if you've seen other cute, comfy socks leave a link to them below so we can all check 'em out!
HAPPY ( almost ) THANKSGIVING! : )
<3,
Bita
Shop 'em here: