JOYFETTI book club: audiobooks you'll love
10.03.2017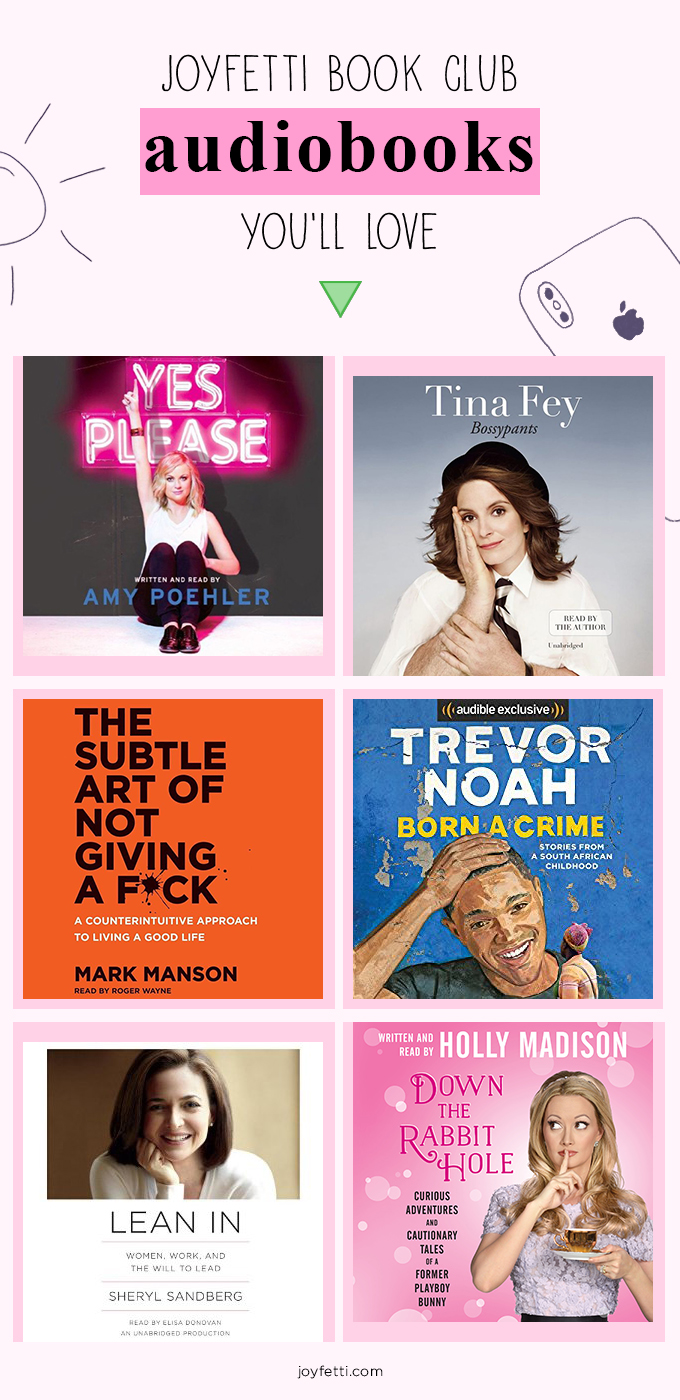 When it comes to commuting, I'm not a fan—since I use to commute over an hour to get to work, I picked up a lot of tricks to make it more bearable.
My favorite trick, by far, was listening to audiobooks.
But they had to be the right audiobook.
The narrator's reading style is super important to me. Personally, I like a narrator that reads how they speak—I definitely can't do monotone because it puts me to sleep, which is the last thing you want when you're driving.
Usually, I like the narrator to be the author, but "The Subtle Art of Not Giving a F*ck" by Mark Manson was an exception—it was read by Roger Wayne, not Mark Manson, & it was incredible.
I'm so obsessed with audiobooks that even though I don't have a super long commute anymore, I still listen to them while I'm driving.
These are some my favorites that I HIGHLY recommend.
This was a super fun, funny read, as you can imagine. I listened to it about 2 years ago, & I definitely would listen to it again.
One of my favorite tidbits, which I think about all the time, is when Amy Poehler talks about her experience of writing the book and she shares her epiphany that "The doing is the thing. The talking and worrying and thinking is not the thing." Basically, she's telling us to get to it ; ) Do the thing, whatever that is for you at the moment.
"While listening to Yes Please, you'll laugh, you'll cry, and you'll become convinced that your phone is trying to kill you. Don't miss this collection of stories, thoughts, ideas, lists, and haikus from the mind of one of our most beloved entertainers. Offering Amy's thoughts on everything from her "too safe" childhood outside of Boston to her early days in New York City, her ideas about Hollywood and "the biz", the demon that looks back at all of us in the mirror, and her joy at being told she has a "face for wigs" – Yes Please is chock-full of words, and wisdom, to live by."
Also a super fun, funny read. I listened to Bossypants probably 2 or 3 years ago, & recently re-listened to it—obviously a winner.
Tina Fey shares some awesome (& hilarious) stories from her life, including her time with SNL.
"At last, Tina Fey's story can be told. From her youthful days as a vicious nerd to her tour of duty on Saturday Night Live; from her passionately halfhearted pursuit of physical beauty to her life as a mother eating things off the floor; from her one-sided college romance to her nearly fatal honeymoon – from the beginning of this paragraph to this final sentence.
Tina Fey reveals all, and proves what we've all suspected: you're no one until someone calls you bossy."
This book was amazing—I bookmarked so many parts so I could easily go back to them (audible has a clips & bookmarks feature, which I love!)
I first heard of Mark Manson when I read his piece "The Most Important Question of Your Life" on his site. It made such a big impact on me, it's still bookmarked on my toolbar. I definitely recommend checking that out if you haven't already—it's an 8-minute read.
"Manson makes the argument, backed by both academic research and well-timed poop jokes, that improving our lives hinges not on our ability to turn lemons into lemonade but on learning to stomach lemons better…. Once we embrace our fears, faults, and uncertainties, once we stop running and avoiding and start confronting painful truths, we can begin to find the courage, perseverance, honesty, responsibility, curiosity, and forgiveness we seek….
There are only so many things we can give a f*ck about, so we need to figure out which ones really matter, Manson makes clear."
This is the book I'm listening to right now.
Arrash & I watch The Daily Show ALL THE TIME so downloading this was a no brainer. Side note: Trevor Noah's "Afraid of the Dark" stand up on Netflix is sooo good—definitely check that out too if you haven't already.
I love this book for so many reasons: 1) Trevor Noah, obviously 2) His life story is incredible 3) It's been teaching me so much about South Africa's history and apartheid.
It's packed with so much info, I use audible's 30-second rewind feature all the time because I just don't want to miss anything.
It moves pretty quickly, so I have to be in the right mindset for it, just so I can absorb everything it offers.
I'm so obsessed with this audiobook, I've already recommended it my sister, Arrash, and a ton of my friends. You'll love it! I clearly am : )
"Trevor Noah, one of the comedy world's fastest-rising stars and host of The Daily Show, tells his wild coming-of-age story during the twilight of apartheid in South Africa and the tumultuous days of freedom that followed. In this Audible Studios production, Noah provides something deeper than traditional memoirists: powerfully funny observations about how farcical political and social systems play out in our lives."
To me, this was an incredible book that was really empowering and shared great stories. I think part of the reason why I loved this book so much was because I listened to the audiobook—it's read by Sheryl Sandberg, which gave it a really personal feel.
I've heard the criticism that it doesn't speak to lower-income women and I totally get that.
In her latest book, Option B, she opens by acknowledging these socioeconomic differences, so it's something she's opened up about as well.
Side note: I pre-ordered Option B and started listening to it in the car when it came out, but I quicklyyyy started balling. I was crying my eyes out. I'll definitely go back to it, but most likely won't listen to it while I'm driving. Teary eyes aren't great when you're trying to see the road.
Have you guys read Option B yet? What are your thoughts?
This book was SUPER juicy. I couldn't stop listening to it.
I have this rule that I don't listen to audiobooks unless I'm driving, because it makes me more excited to drive LOL.
But I broke my rule so many times with this book, especially while on the stair master at the gym.
It's a pretty light read but it also touches on heavy subjects like abuse, which for me, was difficult because it triggered some bad personal memories—just something to be aware of if it's a trigger for you too.
I'm really excited to read her second book. She's such an amazing writer & I love her writing style.
"The shocking, never-before-told story of the bizarre world inside the legendary Playboy Mansion – and finally the secret truth about the man who holds the key – from one of the few people who truly knows: Hef's former number-one girlfriend and star of The Girls Next Door….
A cautionary tale and a celebration of personal empowerment, Down the Rabbit Hole reminds us of the importance of fighting for our dreams – and finding the life we deserve."
What are some audiobooks you guys recommend? I'm always looking to download new ones : )
<3,
Bita
Shop my favorite audiobooks: