It's okay to get political.
01.29.2017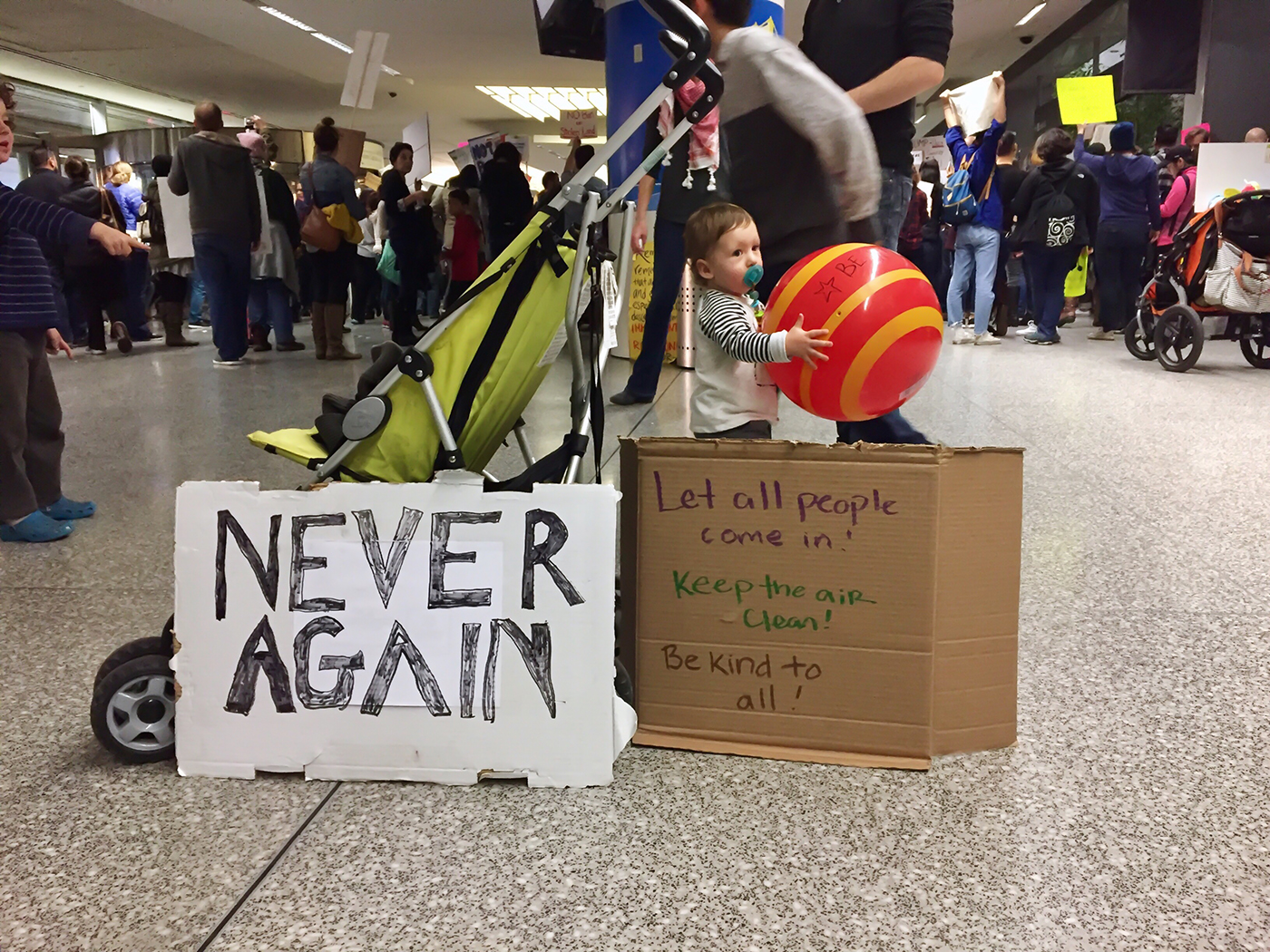 [ This little boy's ball says "BE KIND TO ALL" ]
I don't even know where to start…
But I'll start with what I saw today.
I went to SFO to protest against Trump's unlawful, ill-advised ban against refugees and citizens of 7 primarily Muslim countries: Iraq, Syria, Iran ( where my family & I are from ), Libya, Somalia, Sudan and Yemen.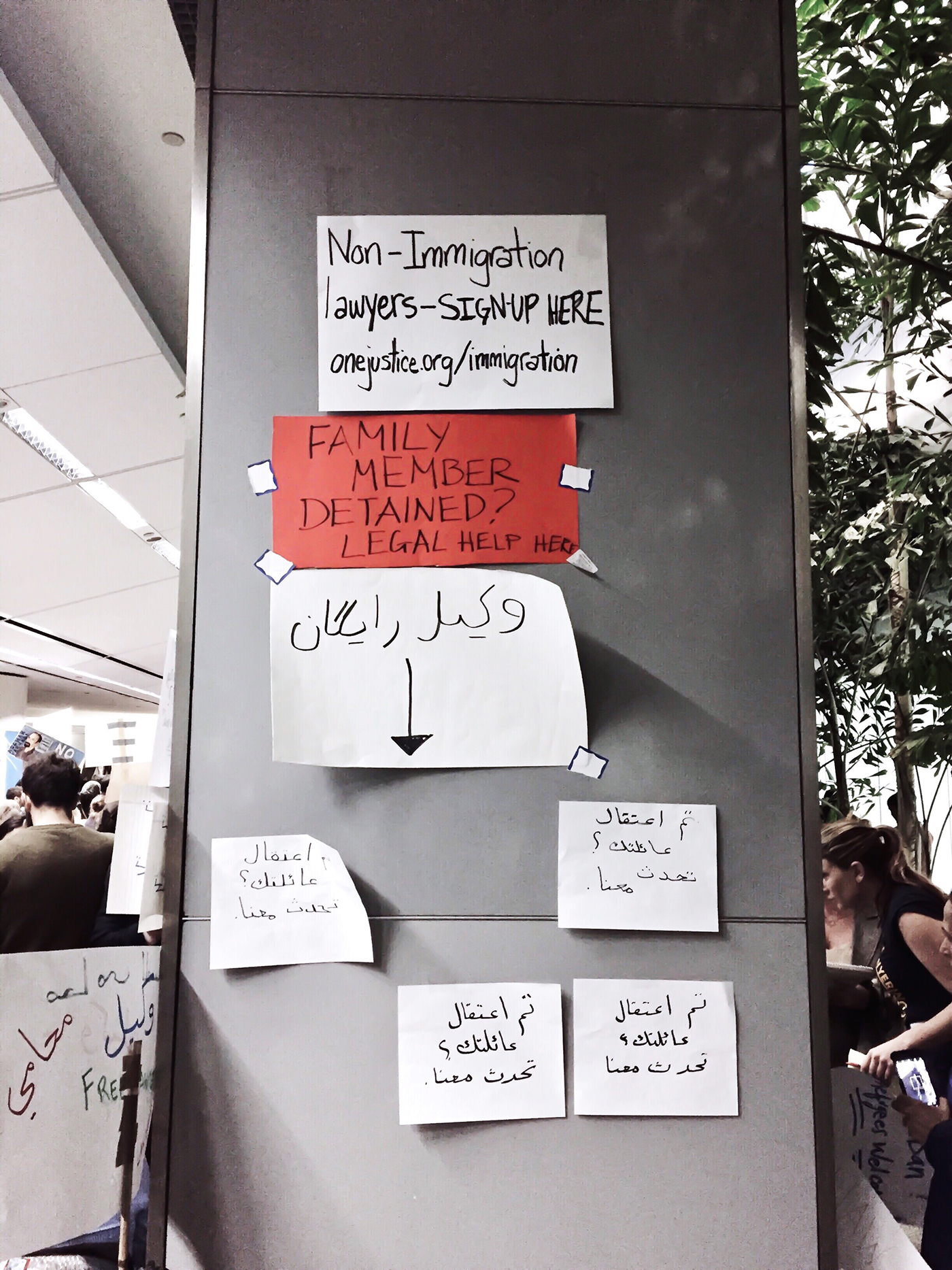 [ The lawyers were working behind this post ]
This is what I saw:
+ I saw a mother protesting with her kids—her toddler by her side and her baby in a stroller—and each of them had a poster. The baby's poster was the size of a flashcard.
+ I saw HUGE crowds on both the 2nd and 3rd floor of International Arrival with people of all ages, and religious and cultural backgrounds—not just Middle Easterns—protesting against the ban. It was beautiful.
+ I saw so many signs that said "Jews for Muslims".
+ I saw protestors wave the American flag and the Iranian lion flag.
+ I saw tons of lawyers helping… They had name tag stickers on their shirts that said "Lawyer". There was an area on the 2nd floor next to the protestors where they were working to get the people released—many of them had their laptops out ( they looked very busy ).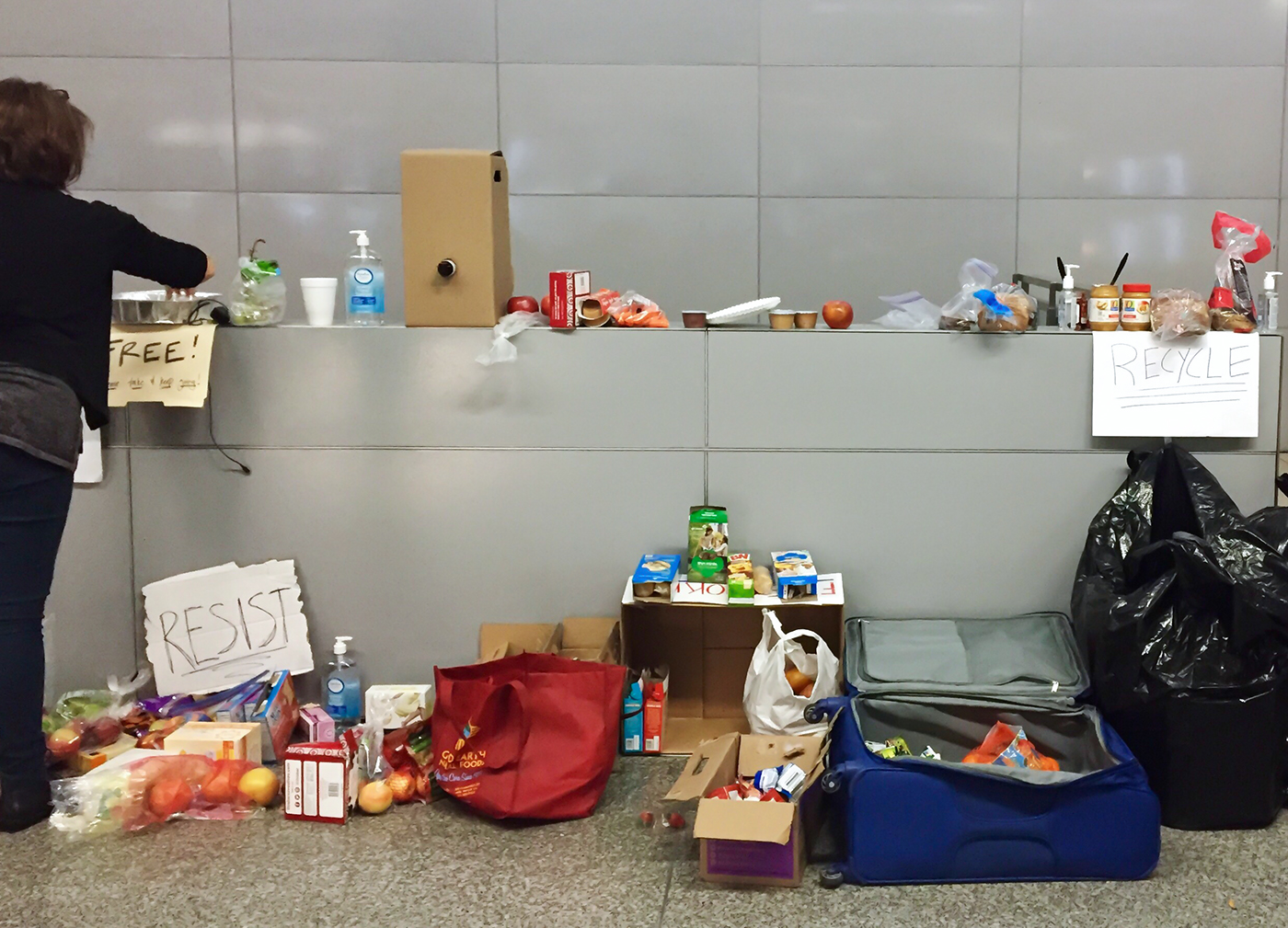 [ One of the many areas where people donated food and drinks for protestors ]
+ I saw multiple areas with donated food and water for protestors. People would go around the crowd passing out water bottles to anyone who was thirsty.
+ I saw LOVE and UNITY.
That's also what I heard and felt.
The crowds were loud and passionate and peaceful and loving all at the same time.
There were drums and music, and even a Chinese dragon dance.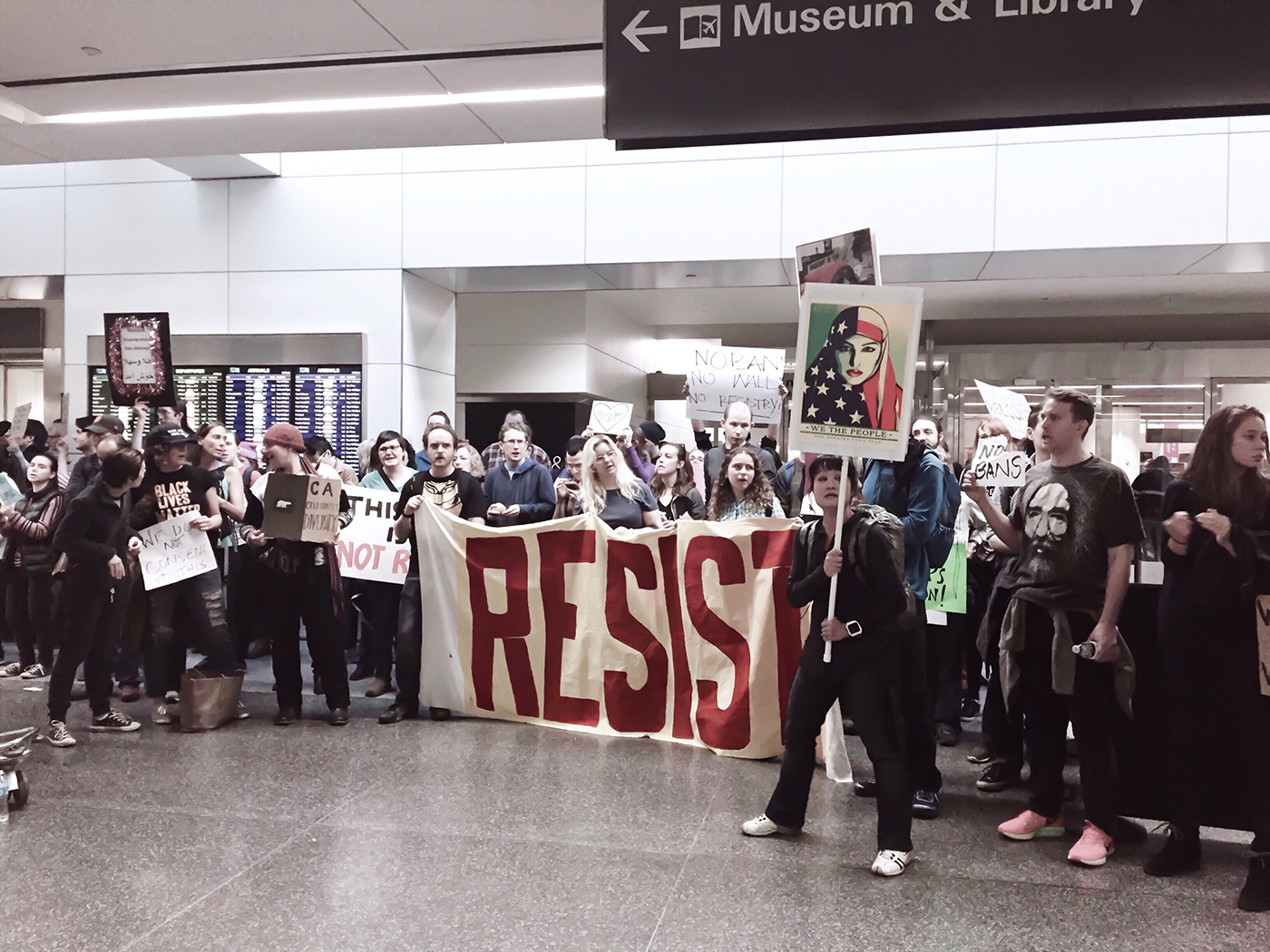 We chanted:
+ "We are people, we are not illegal."
+ "The people united will never be divided."
+ "Let the families out. Let the lawyers in."
+ "All the walls have got to go from Palestine to Mexico."
+ "No ban, no wall."
+ "You come for one, you come for all."
+ "Tell me what America looks like. This is what America looks like!"
& "Move Trump. Get out the way. Get out the way, Trump. Get out the way."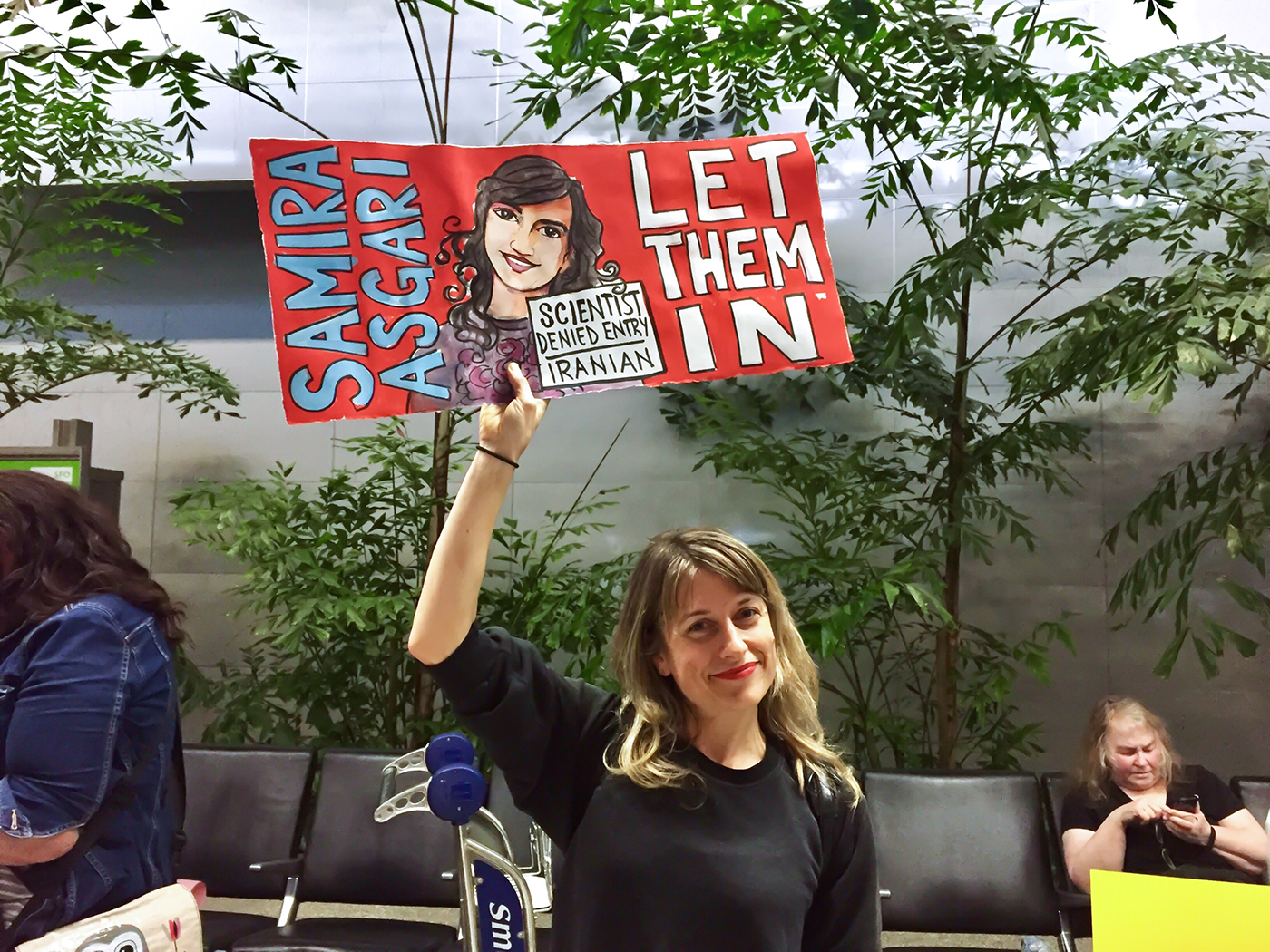 [ Artist, Naomi Alessandra, created these incredible signs to bring awareness to who this ban is actually keeping out. Read about Samira's story here & follow her on Twitter for updates ]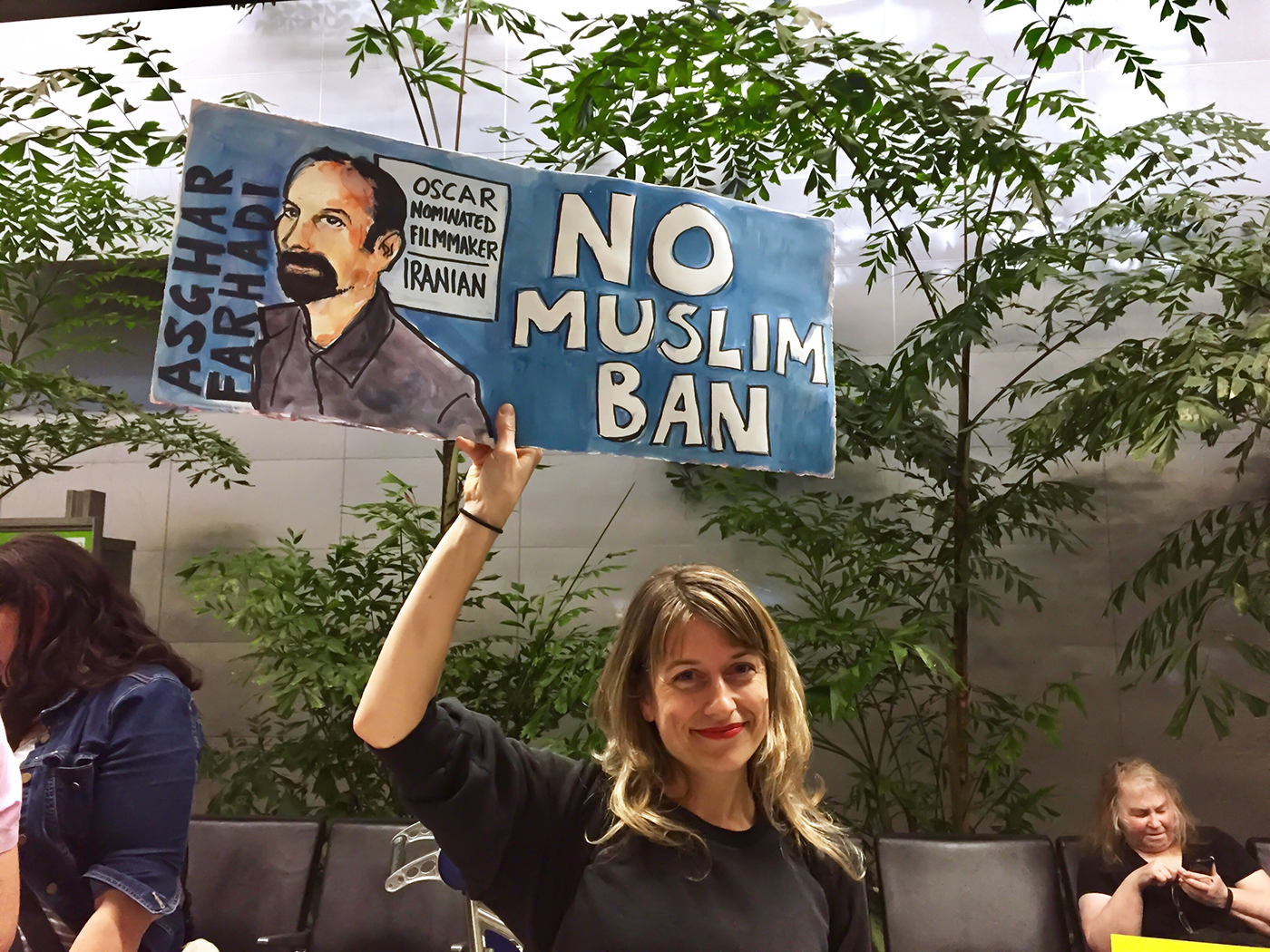 [ Award-winning Iranian filmmaker, Asghar Farhadi, who delivered this beautiful acceptance speech at the 2012 Oscars wrote this statement about the ban ]
If you don't know who these people are who are being detained at airports or on the way to the U.S. I encourage you to learn about them with me.
Learn about Samira Asgari, a research scientist who was moving from Switzerland to Boston to start her post-doctoral fellowship at a Harvard Medical School laboratory. She was stopped from boarding her connecting flight into Boston.
Learn about Marzieh Moosavizadeh, a 75-year-old grandmother who's held a green card since 1997 ( 21 years! ) and visits her family in the U.S. almost every year. She was detained at LAX.
Learn about the 5-year-old boy—an AMERICAN CITIZEN and Maryland resident—who was detained for 4 hours at Dulles airport.
Learn about these people and their stories so when someone says this is a ban against terrorists you can say, confidently:
No, this is NOT a ban against terrorists. This is a ban against Muslims. This is a ban against humanity.
If you've read articles about other people who are being wrongfully detained or are unable to travel to the U.S. with their green cards or visas, please link to those articles below. Or if you'd like to share your personal story with the community, please share your experience with us below. We want to hear from you.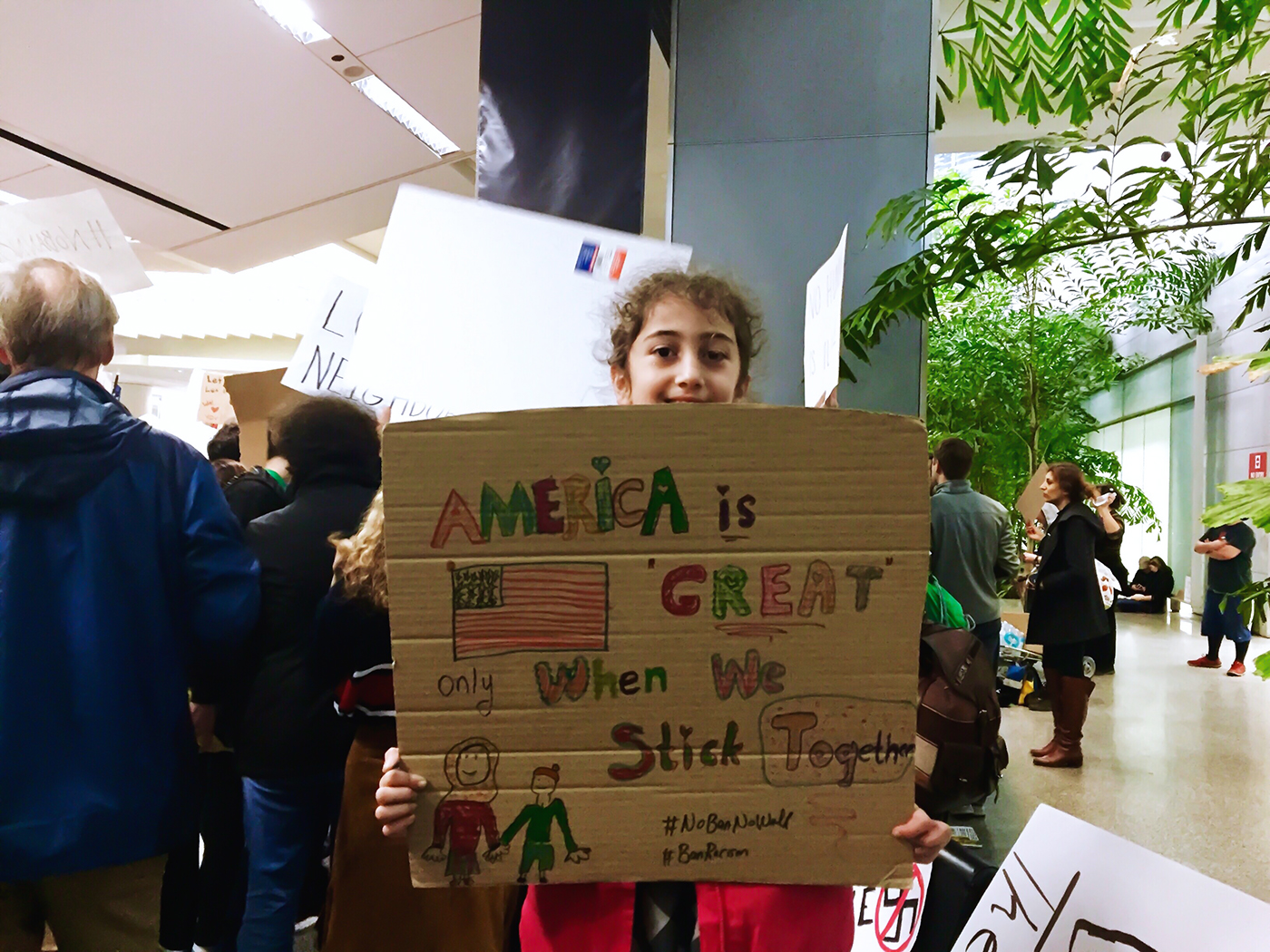 Last week, on Saturday, January 21, I participated in the Women's March in San Francisco and that too was incredible.
It was my first march and it meant so much to me for so many different reasons.
It's amazing to see all these important issues… Women's rights ( which are human rights! ), LGBTQ rights, immigration, education, the prison system, the Black Lives Matter movement, the environment and so much more… All come together into one, united, powerful movement.
If you're feeling down… If you're angry… If you feel helpless… Go to a peaceful protest. Your presence makes a difference.
You CAN make a difference.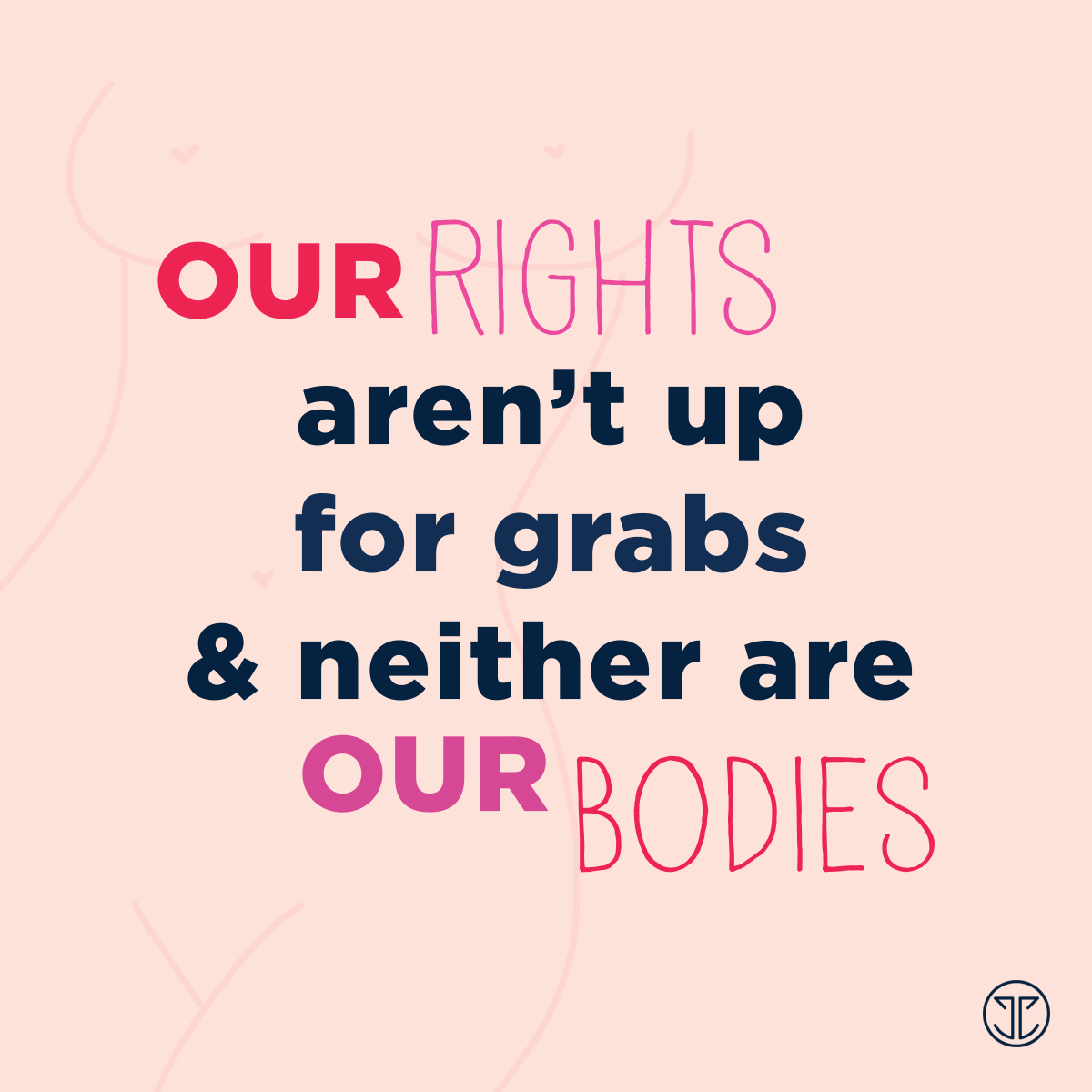 Whether you choose to write, protest ( I highly recommend it! ), create art, sing, donate your time and / or skills—you're making a difference.
Thank you to everyone who stood with me and continues to stand for what's right.
<3,
Bita