How to eat Fitness Bread—a yummy little snack
11.22.2017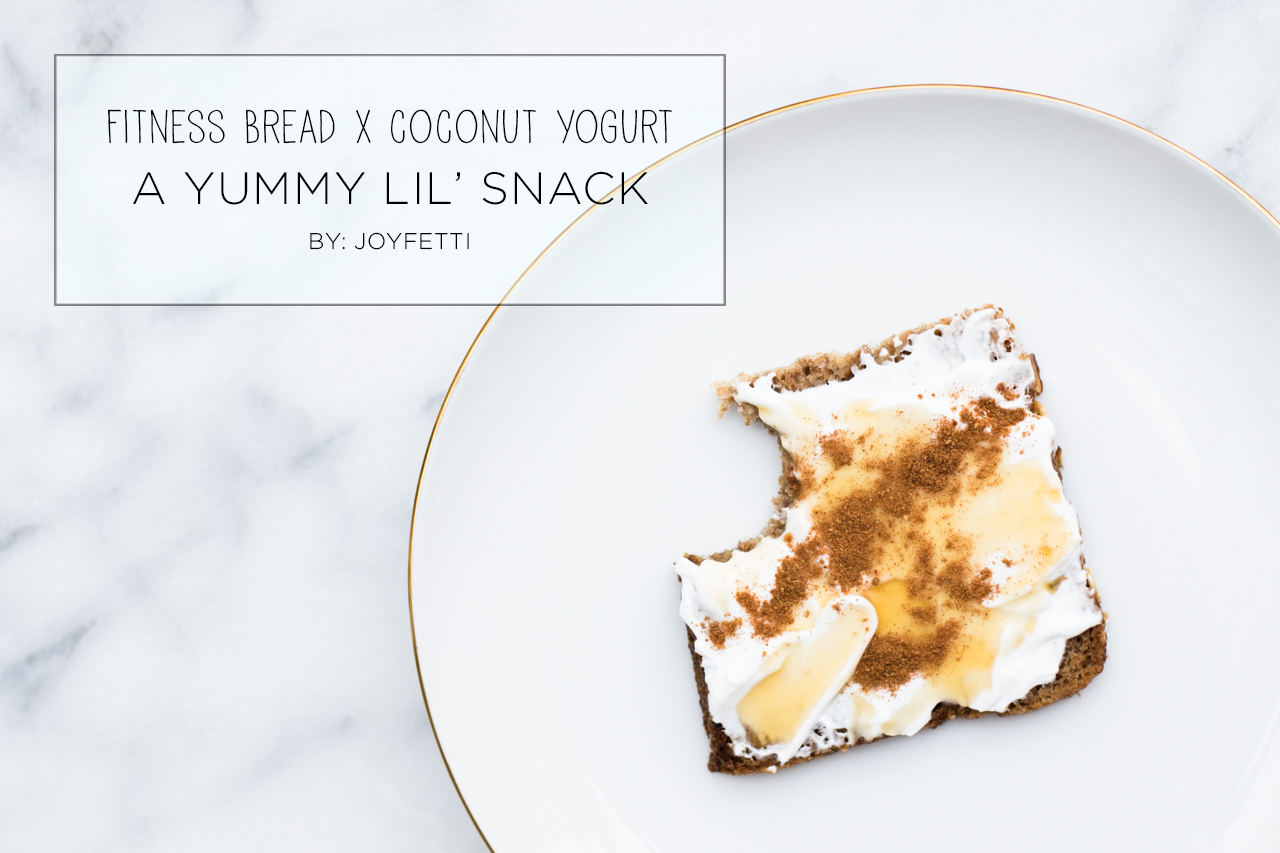 Have you heard about "Fitness Bread"?
I'd heard about it here & there in talks about fitness & nutrition, but I never really sought it out.
But, then, today, on my 2nd trip to Whole Foods (there were 3 today—gah! Thanksgiving for ya) I spotted it. And instantly, I had to have it. After checking the ingredients of course—we're solid. More on that below.
The funny thing is, right away, I knew exactly what I wanted to have it with: COYO coconut yogurt. To the point that I started craving it.
COYO caught my eye a couple months ago & Arrash I really liked using it as a spread on toast. We topped it with honey & pumpkin pie spice (YUM!) & it was sooo good. I had a feeling it'd be delicious with Fitness Bread too & it was! Fitness Bread is kind of long—the pieces are really wide, like double the width of a typical slice of bread—so I cut it in half.
It really hit the spot.
Once I took a bite, I knew I had to snap some pics to share with you guys—it's definitely worth trying.
Oh & side note: I'm so sorry I completely ripped the packaging! The photoshoot was completely spur of the moment, & since I didn't plan to photograph it, I basically ripped the packaging in half to get the bread out ASAP lol. I was very eager, LOL. My bad.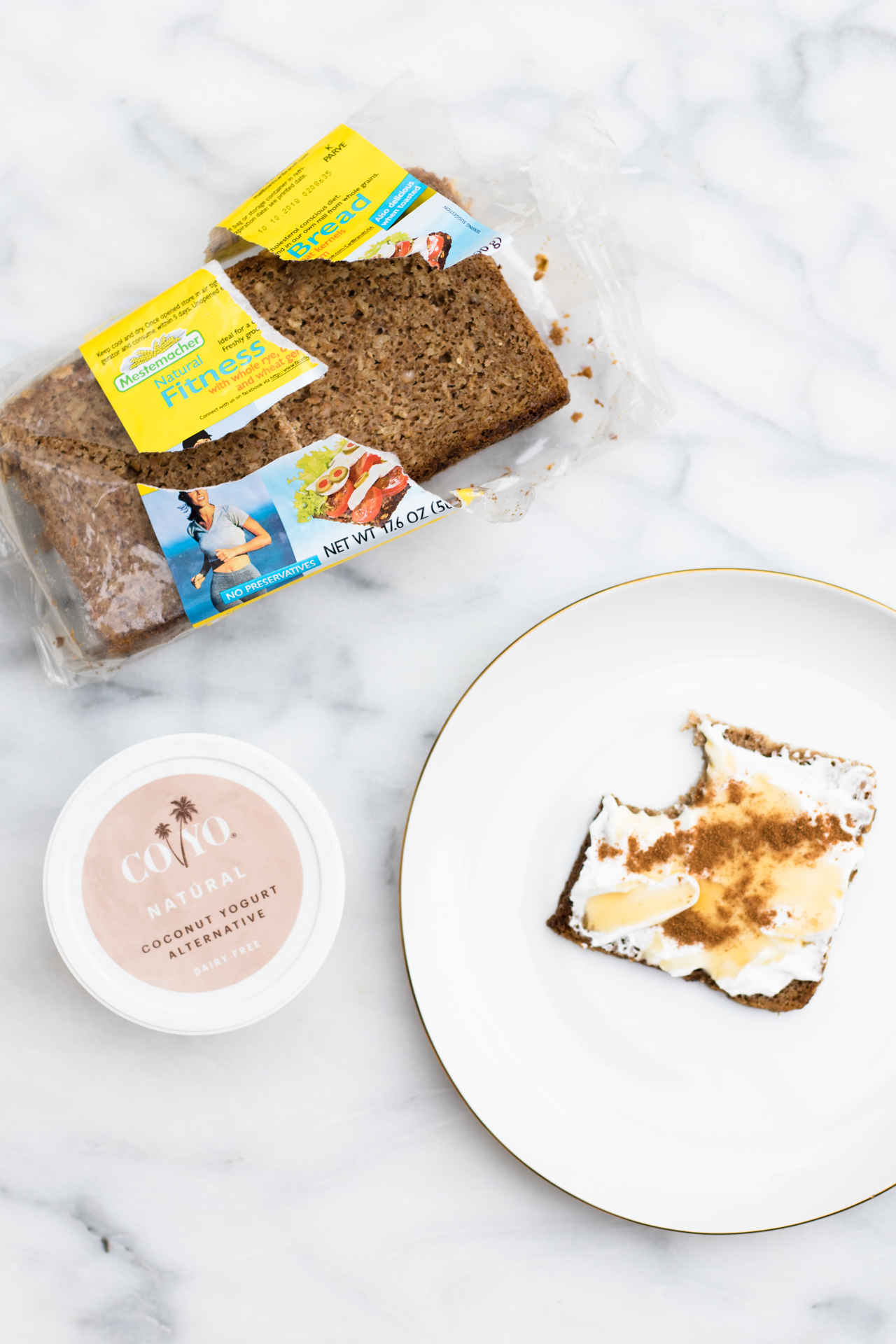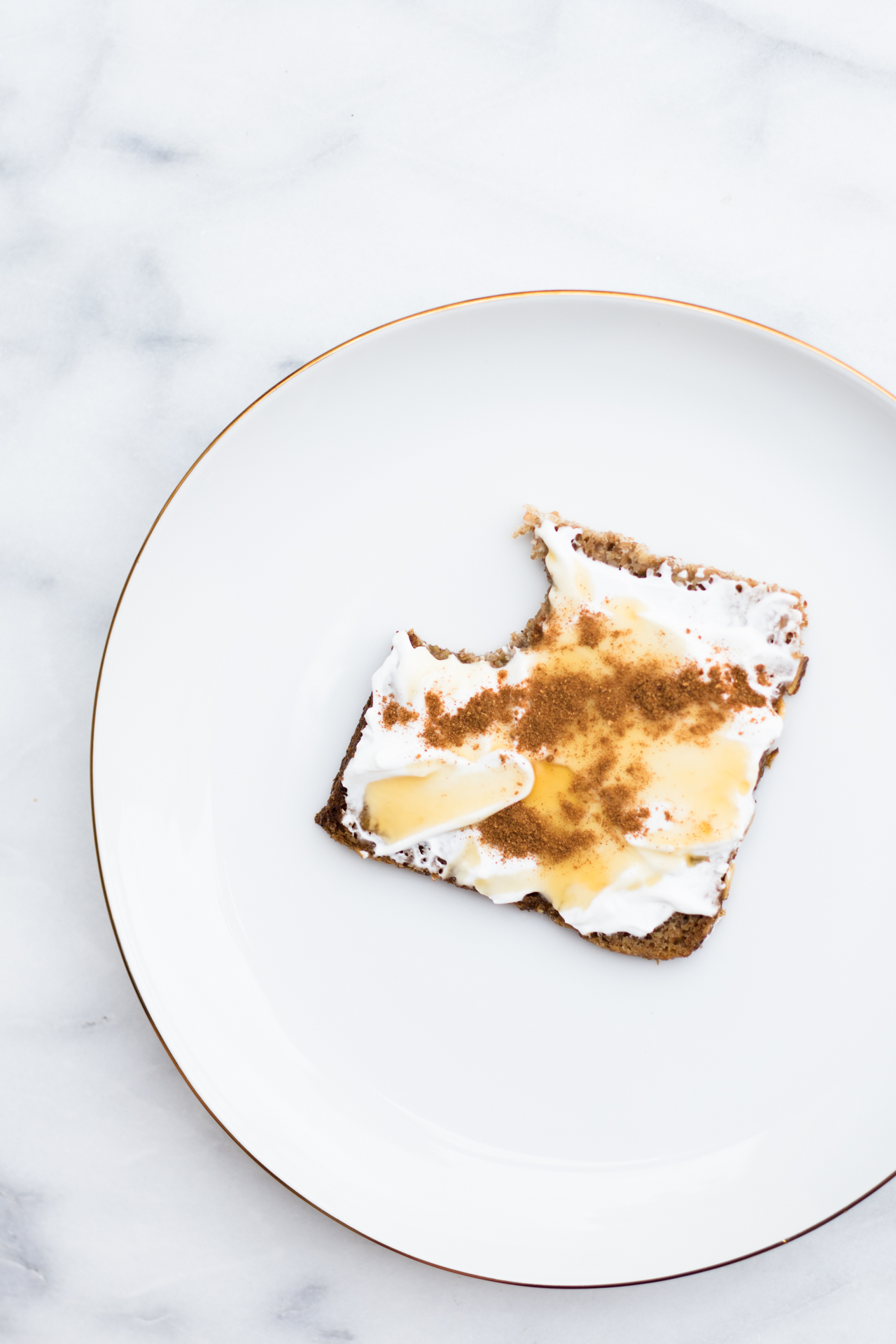 To make:
Cut one slice of Fitness Bread in half
Spread COYO coconut yogurt on top
Drizzle with honey
& sprinkle pumpkin pie spice on top
Easy—peasy!
If you're wondering what Fitness Bread is made out of (I was too!) here are the ingredients:
whole kernel rye, water, oat kernels, wholemeal rye flour, iodized salt, wheat germ, oat fiber, yeast.
I'm also into it's nutrition facts.
1 piece (the entire slice—I used 1/2) provides 24% of your daily recommended fiber (yes, please!) & 4g of protein.
That's 6g of fiber & 4g of protein just from the bread, & then you're getting some extra fiber & protein from the coconut yogurt as well.
I'm very into it.
The packaging for the Fitness Bread says to eat it within 5 days of opening it, so I'll be getting creative & thinking of more ways to eat it. Any suggestions? I'm definitely thinking an avocado-tomato combo will be happening soon. Maybe the day after thanksgiving : )
Okay, I'm off to get ready for bed. Very excited about this little discovery. I hope you guys enjoy too!
HAPPY THANKSGIVING!! xx
<3,
Bita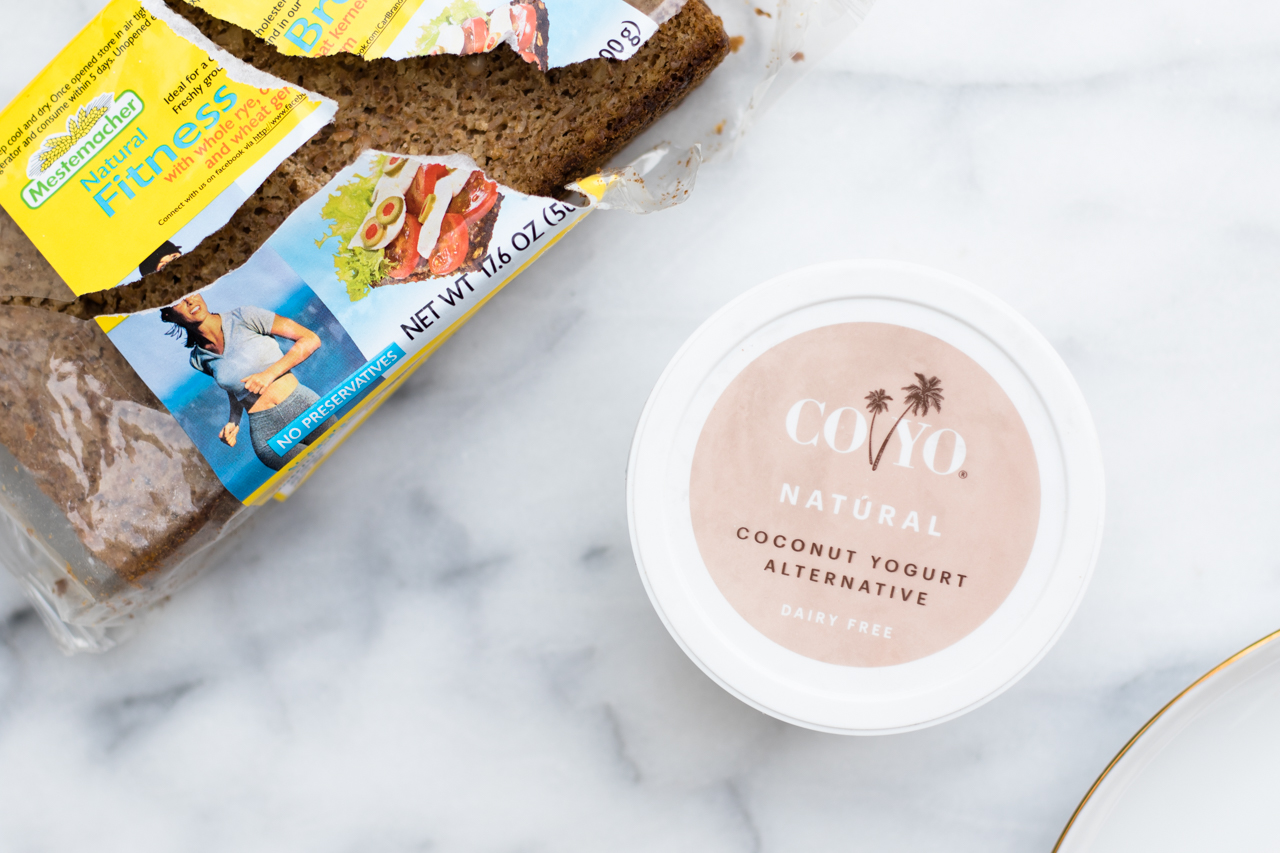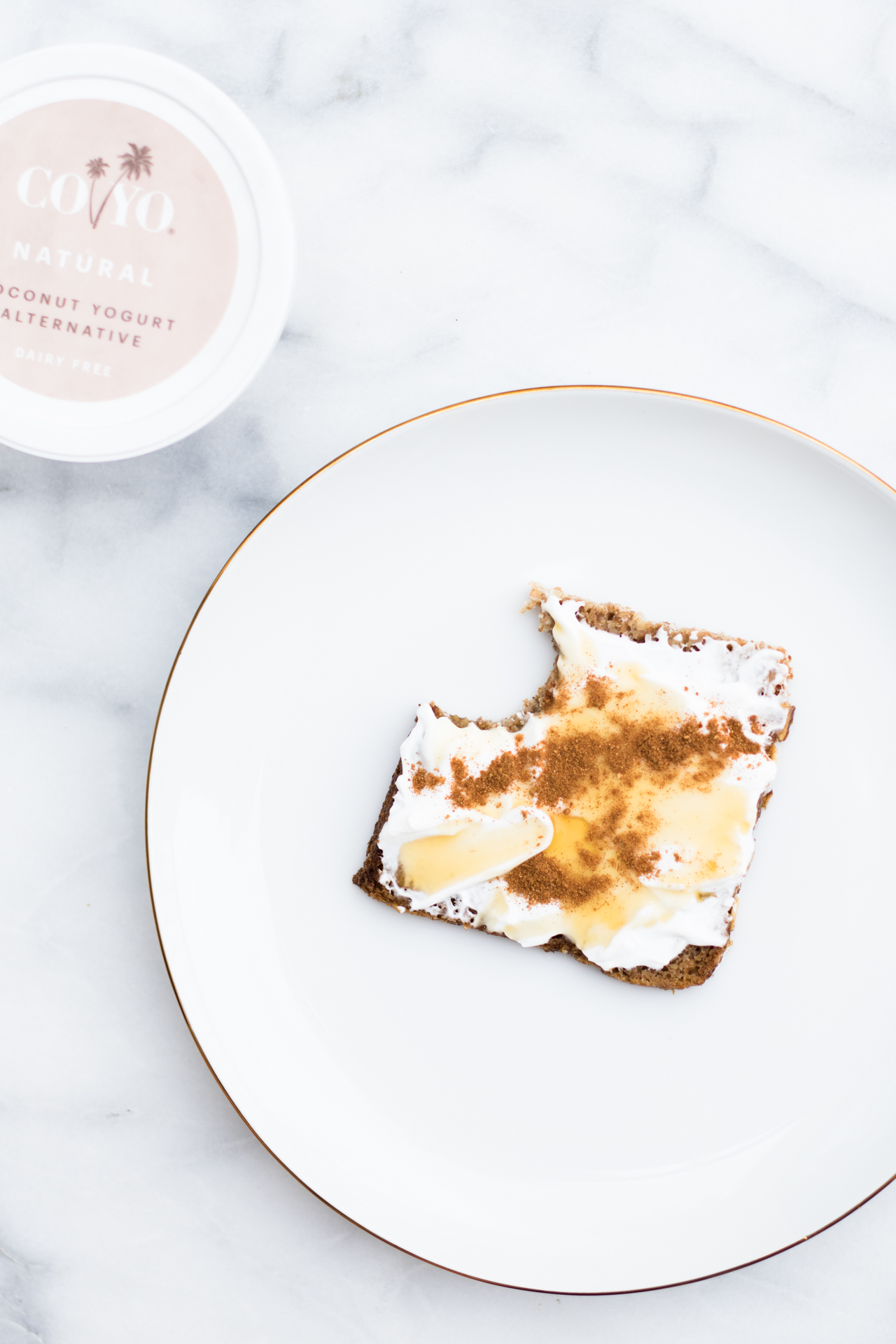 Cute plates I'm loving: