Halloween pumpkin carving checklist
10.28.2019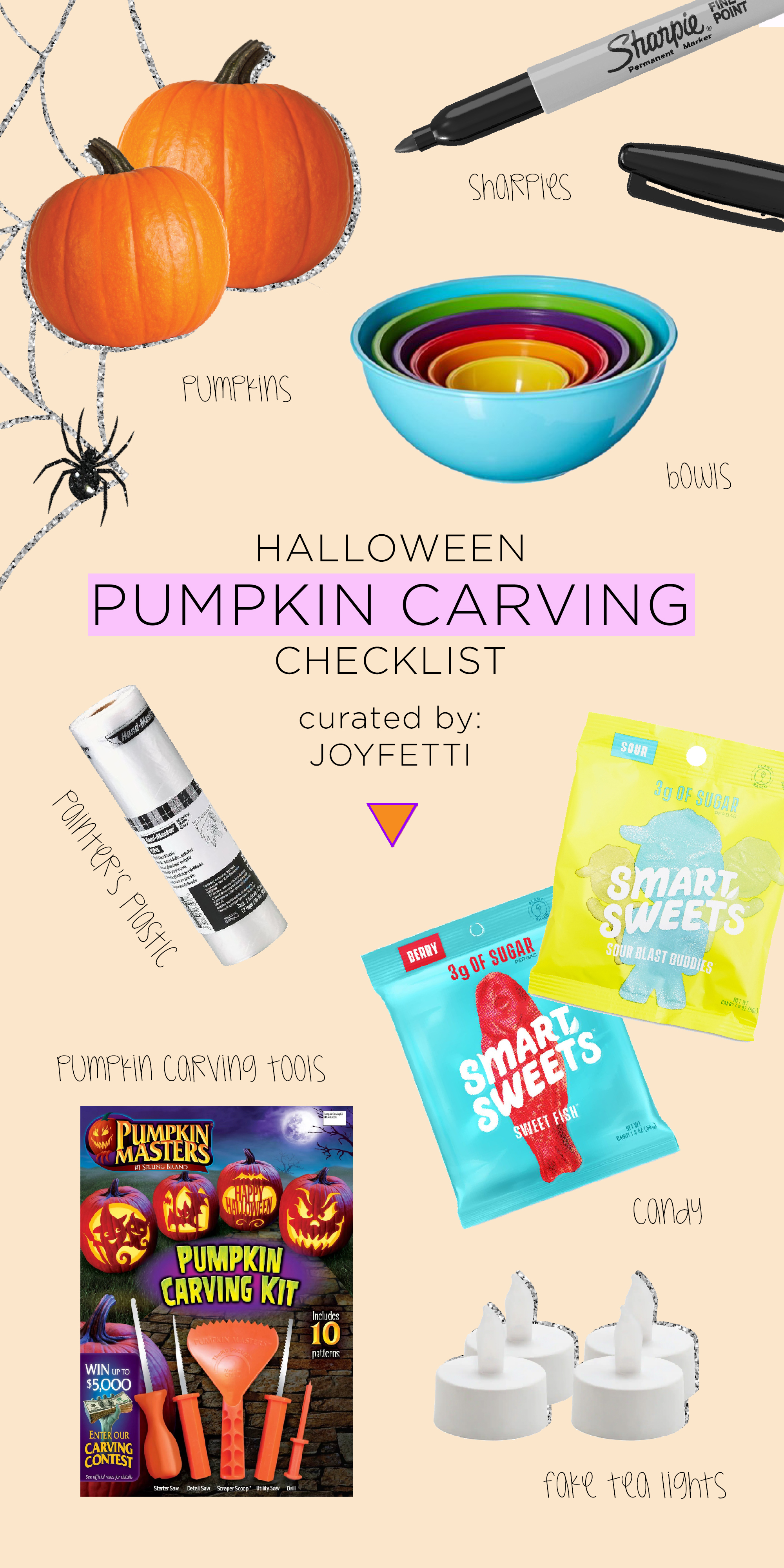 Before Arrash & I started dating I was all about summer and I wasn't really into cold weather—I'm still not into it (lol I love warm weather) but I've definitely gotten more festive with Halloween & Christmas thanks to him : )
Something that's become a tradition for us is pumpkin carving before Halloween.
Last year we did it together with some red wine—sooo good! And some fresh strawberries with vegan whipped cream. Yum! I surprised him with the whole set up laid out on the table & we made a little date night out of it. It was really fun!
This year, we carved pumpkins with our niece & nephew & my sister & brother-in-law (we made them carve too) & it was super fun!
Cubby tried to eat our pumpkins the entire time—well most of it & then she decided to nap—& luckily we were able to distract Buds from the pumpkins by giving him his ball. He's OBSESSED with pumpkin, but his ball kept him occupied, & by the time he realized he was missing out on pumpkins we were pretty much done.
We decided to set up pumpkin carving at our place super last minute & it actually went super smoothly & the clean up was really smooth too, so I put together this little checklist for us—which I'll definitely refer back to next year!
We picked up pumpkins at Safeway (convenient!) & got some extra pumpkin carving tools so everyone could carve at the same time. We also got fake tea lights so we could light up our jack-o-lanterns.
We had some painters plastic at home (from Home Depot) so we moved our kitchen table and chairs to the corner of the room so we could create space for all of us to carve next to each other in a row (super cute!). We laid out the plastic on the floor and carved on the floor together.
Carving on top of the painter's plastic made clean up SUPER EASY!!
We put out some sharpies so we could draw what we wanted to carve on our pumpkins. We also put out 6 big bowls—3 for collecting the pumpkin seeds (we roasted them in the oven later that night with Miyoko's vegan butter, maple syrup, & seasoning) & the other 3 bowls for collecting the pumpkin cutouts.
Oh & we also picked up food and ate before we started, so that made dinner really simple & quick too! We had falafel plates. Soo good!
We didn't have any candy while we were carving our pumpkins, but in hindsight that would've been really fun & fitting. Next time, I'd serve some SmartSweets—we get their vegan ones. My favorites are the sour blast buddies & the sweet fish (they're like Sour Patch Kids & Swedish Fish—but better!)
P.S. I scooped out my pumpkin so well (not bragging) & I made my top cut so massive (oops! lol) that my pumpkin really looked like it could've been a punch bowl—something to hold a fun festive drink. Maybe a fun idea for next year? You see it too, right? Pic below: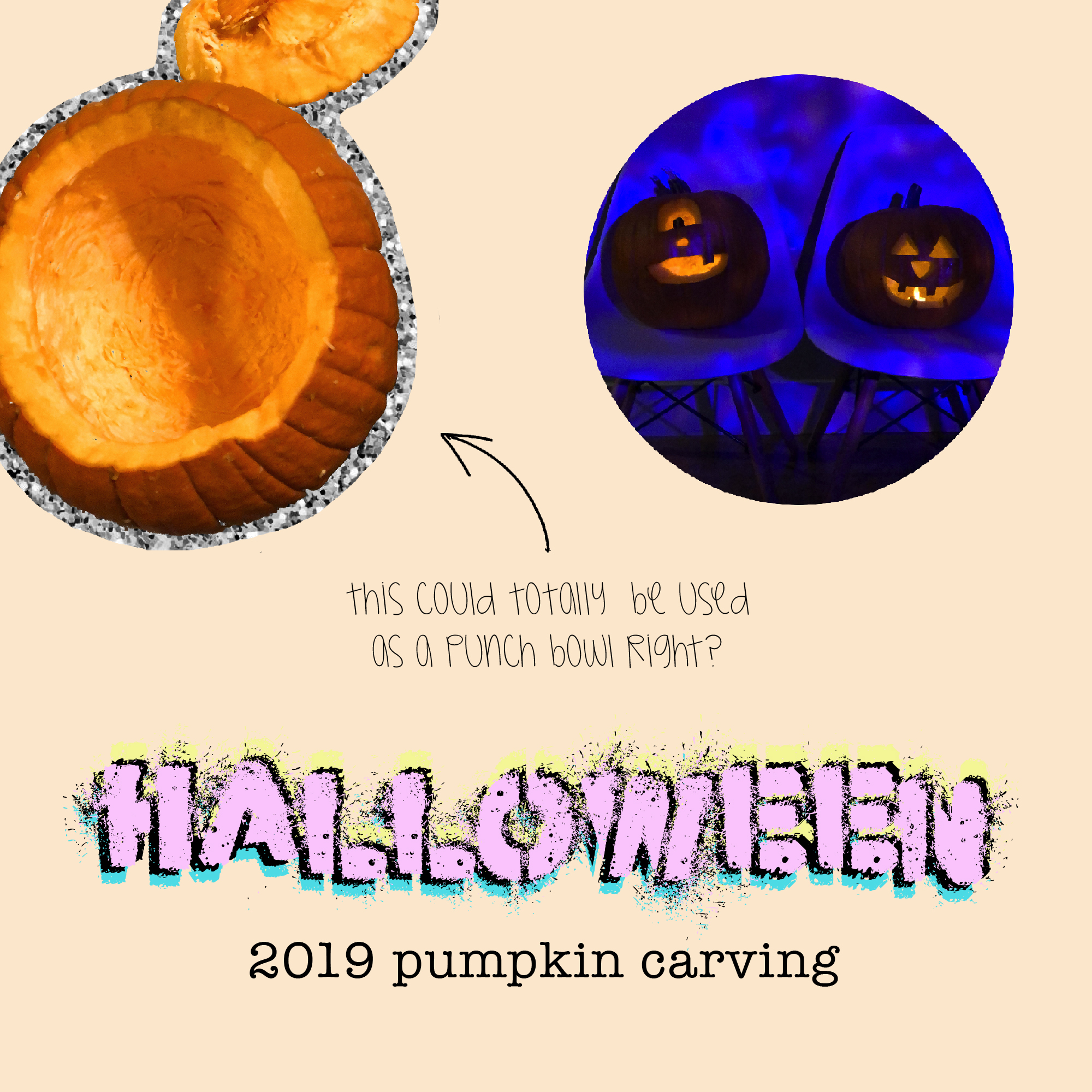 To set the Halloween vibe we also plugged in this fun little purple & orange halloween bulb we had from last year & played Halloween music through our Alexa—songs like the Night Before Christmas & Hocus Pocus soundtracks. So fun!!
What are some of your Halloween traditions? I want to hear! : )
Halloween pumpkin carving checklist
1) Pumpkins
Of course!
2) Sharpies
To draw out you want to carve on the pumpkin before you start carving
Sometimes these come with stencils or ideas of what to carve so you can use those too if you'd like!
To put on the floor (or table if you're carving on a table) so you can carve on top of it. This makes clean up soooo much easier!
5) Bowls
To collect the seeds & cutouts—we used separate bowls for seeds & cutouts so we could clean the seeds a little bit easier when it was time to roast them.
6) Candy
I've been loving the SmartSweets vegan candies lately—the Sour Blast Buddies & the Sweet Fish are so good! The green, blue, & red Sour Blast Buddies are my favorite. I keep them in the fridge & then take them out when I want to eat them.
To put inside the jack-o-lanterns when we're done :  )