Grapeseed oil FTW: the best makeup remover EVER
10.09.2017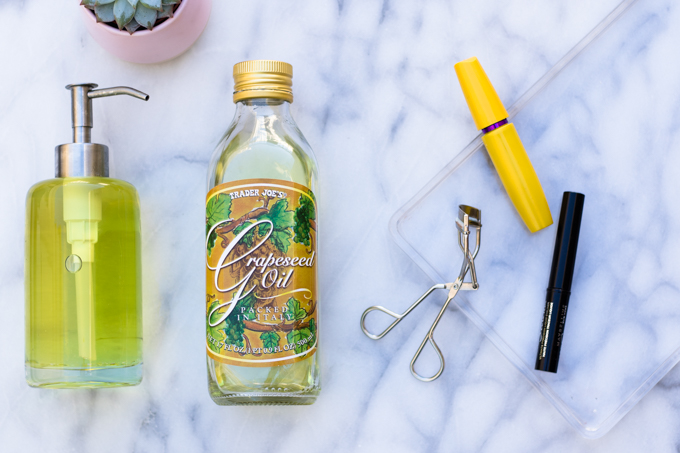 We have two "soap dispensers" in our bathroom—one is branded, and it's full of soap (normal), and the other one is this glass soap dispenser I filled with grapeseed oil, because I use it as makeup remover.
If you don't already do this, this little trick will blow your mind.
I've been using grapeseed oil as makeup remover for years now & it literally swoops my makeup right off. Even my mascara. & EVEN the makeup I wear to weddings. It's that good.
When we moved into our last apartment, I ordered us a bunch of bathroom accessories, like this glass soap dispenser, so I could make it easier to use the grapeseed oil. Genius, right? ; )
Arrash & my dad have both mistaken it as hand soap, but only once in a over a year—so I feel like the odds are good, but some confusion might happen if you put it on your bathroom counter. If you can deal with that, it's totally worth it. (It's worth it!) You'll save so much time washing your face. It's super efficient, & it actually feels good. I've never had any other makeup remover feel good, have you?
Here's how I use to remove my makeup: I squirt some in my hand (thanks to the soap dispenser) & rub it all over my face. Then I splash water on my face & wash it like I would with any other face wash.
Because it's an oil, & I don't want it to get in my eyes, I'll lather a bar of soap and lightly wash my eyelids, and then continue washing the rest of my face. After I'm done washing my face, I put some more grapeseed oil on my face as a moisturizer before bed, kind of like a night serum.
It's super moisturizing, so even on days I don't wear makeup, I'll still put grapeseed oil on my face before I go to bed. Sometimes I even add a little bit to my body lotion before I put it on—I just mix it in my palm.
Like most things, you can find some pretty big claims on grapeseed oil's benefits if you do a quick Google search.
Here's why I use it:
It literally swoops my makeup right off
It's moisturizing
Our skin can absorb it easily
It doesn't clog pores (coconut oil can)
It contains antioxidants, fights free radicals & promotes youthful-looking skin (WIN!)
Bonus: it's also known to treat acne & tighten skin.
Give it a try next time you're washing off your makeup & LMK how you like it!
<3,
Bita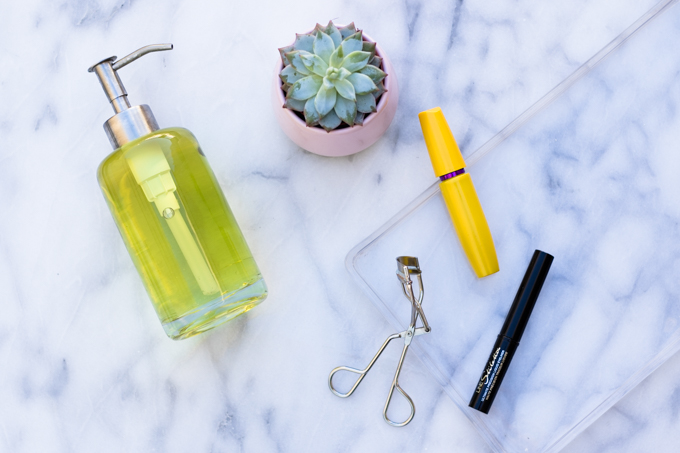 [ My fave eyeliner by far! ]
Shop my makeup: