Cute Makeup Bags
06.13.2016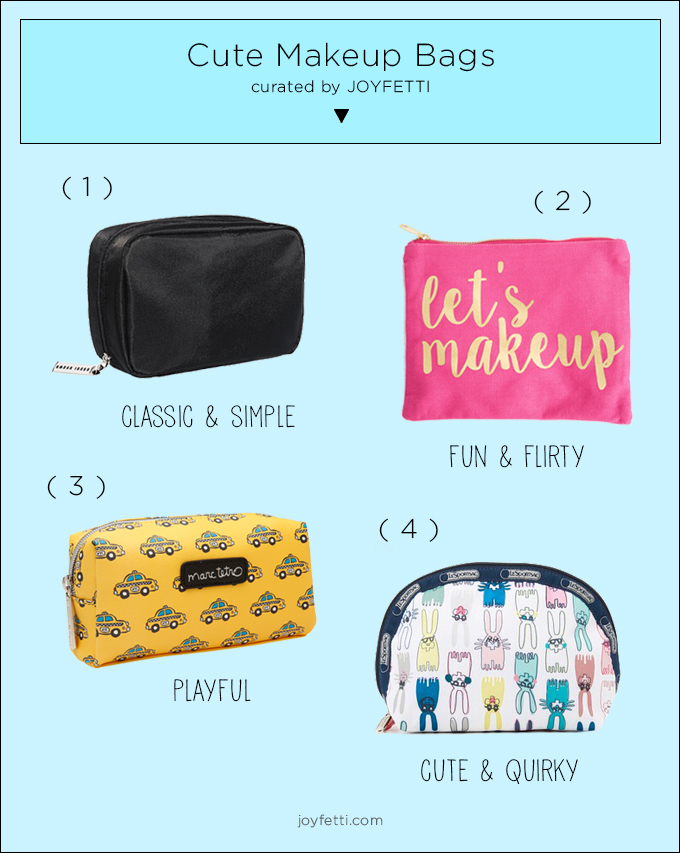 … & they're all under $30 ( !!! )
My compact broke recently ( in the worst place ever… In my car… It was parked ) & the powder got allllllll over my makeup bag. I'm sure you can relate?
SO, I found the upside & started browsing for a cute, new bag. ( LOL )
Here are a few on my wish list:
1 ) This classic, simple, all-black cosmetic bag by Bobby Brown 
It's on sale! BTW : ) I love this one because it LITERALLY goes with everything. I know we're not talking about a dress or a clutch, or shoes, but I love how you can throw this in ANY bag and it won't clash with it. Kind of nice, don't you think? I'm all about this one!
2 ) This fun & flirty hot pink pouch
How fun is this pouch? I love the playful font & bold color.
3 ) This playful cosmetic case
Doesn't this SCREAM New York? I like that about it. Plus, it's BRIGHT yellow so hopefully, if / when ( definitely WHEN ) I misplace it, it'll be easier to find—right?
4 ) This cute & quirky LeSportsac cosmetic pouch
I love the pattern & the playful colors.
So… Which one of these do you guys like the most?
xx,
Bita
Shop these bags: