Buh-bye yucky artificial colors—here are some sprinkles WITHOUT artificial colors
12.30.2017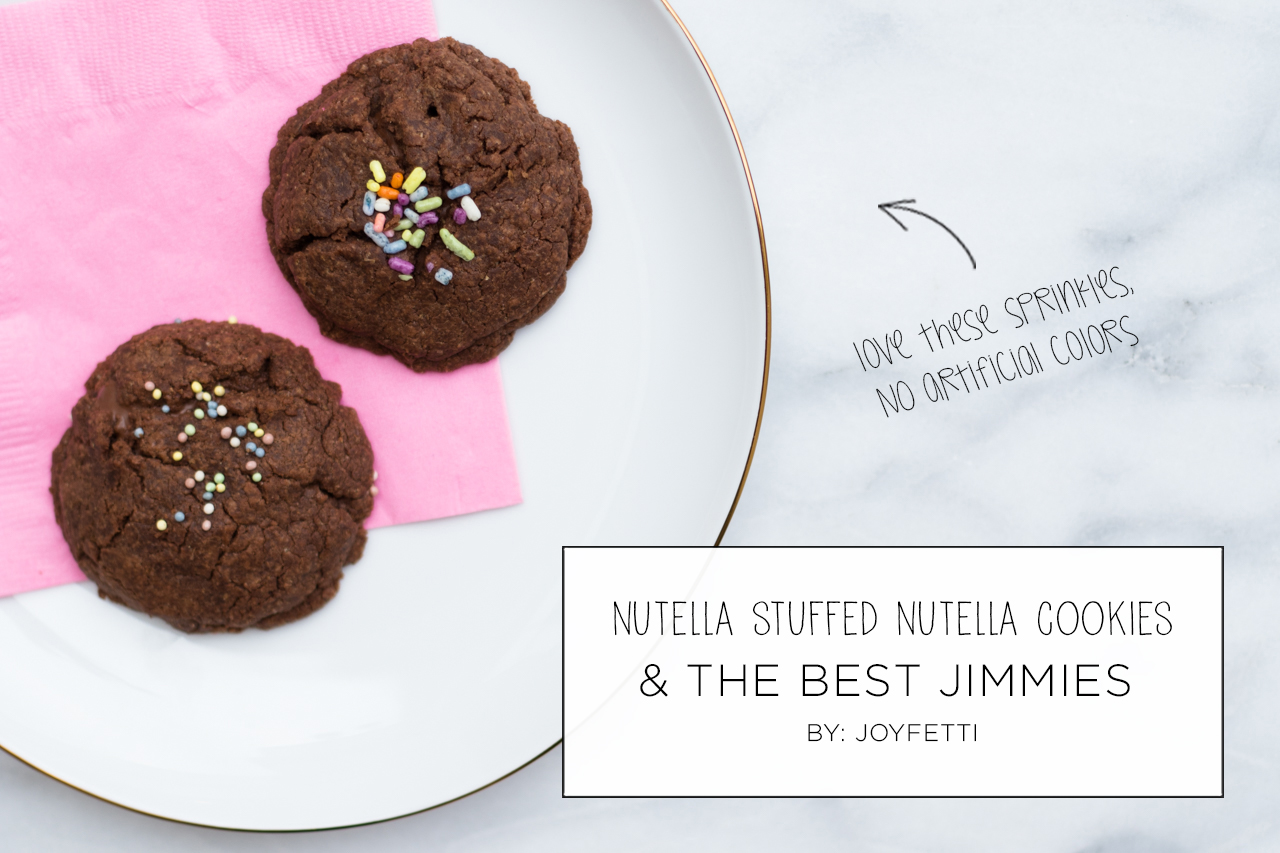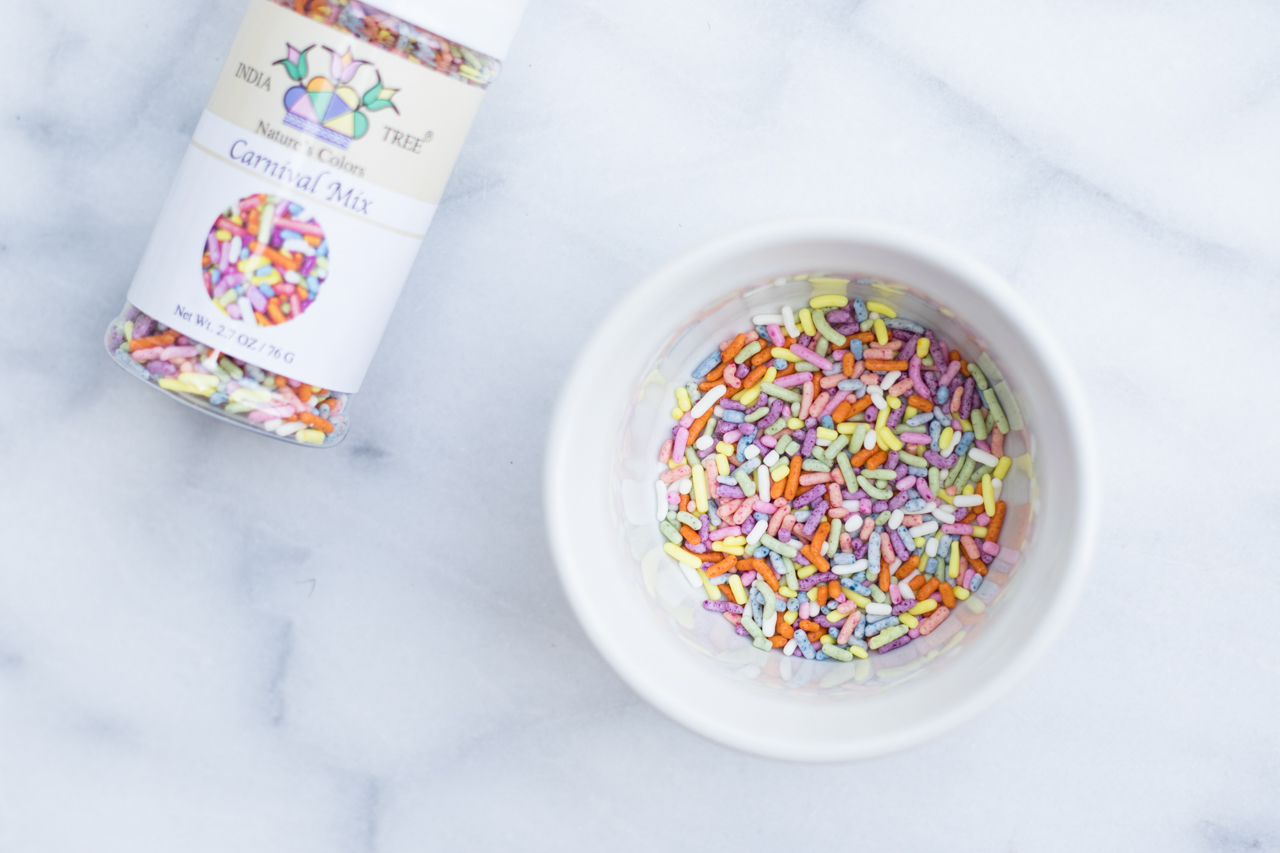 Remember these Nutella stuffed Nutella cookies?
I make them every year around the holidays—& they're always a big hit (peep the recipe below to make them at home, you'll love!)
This time, I was even more excited to share them with my friends & family because I FINALLY used sprinkles that are free of artificial colors. Yup, NO ARTIFICIAL COLORS. None, nada!
Such a big win.
I honestly don't know why it took me so long to realize I could find these sprinkles so easily.
They're in the baking aisle at Whole Foods, shocker ; )
One of the things I like about shopping at Whole Foods, is right off the bat I know everything in there is free of artificial colors (among other things—deets here).
I still check the ingredients on everything (so important) but it's nice to know that at the very least things like artificial colors & high fructose corn syrup, EEK, aren't in any of the products I might be buying.
Anyways, I bought these at Whole Foods but you can also get them on Amazon.
& P.S. they have A WHOLE BUNCH of really fun options on Amazon—like these white snowflakes & peppermint crunch sprinkles that are perfect for the holidays/winter & these super cute heart sprinkles I really want for Valentine's Day baking.
So fun!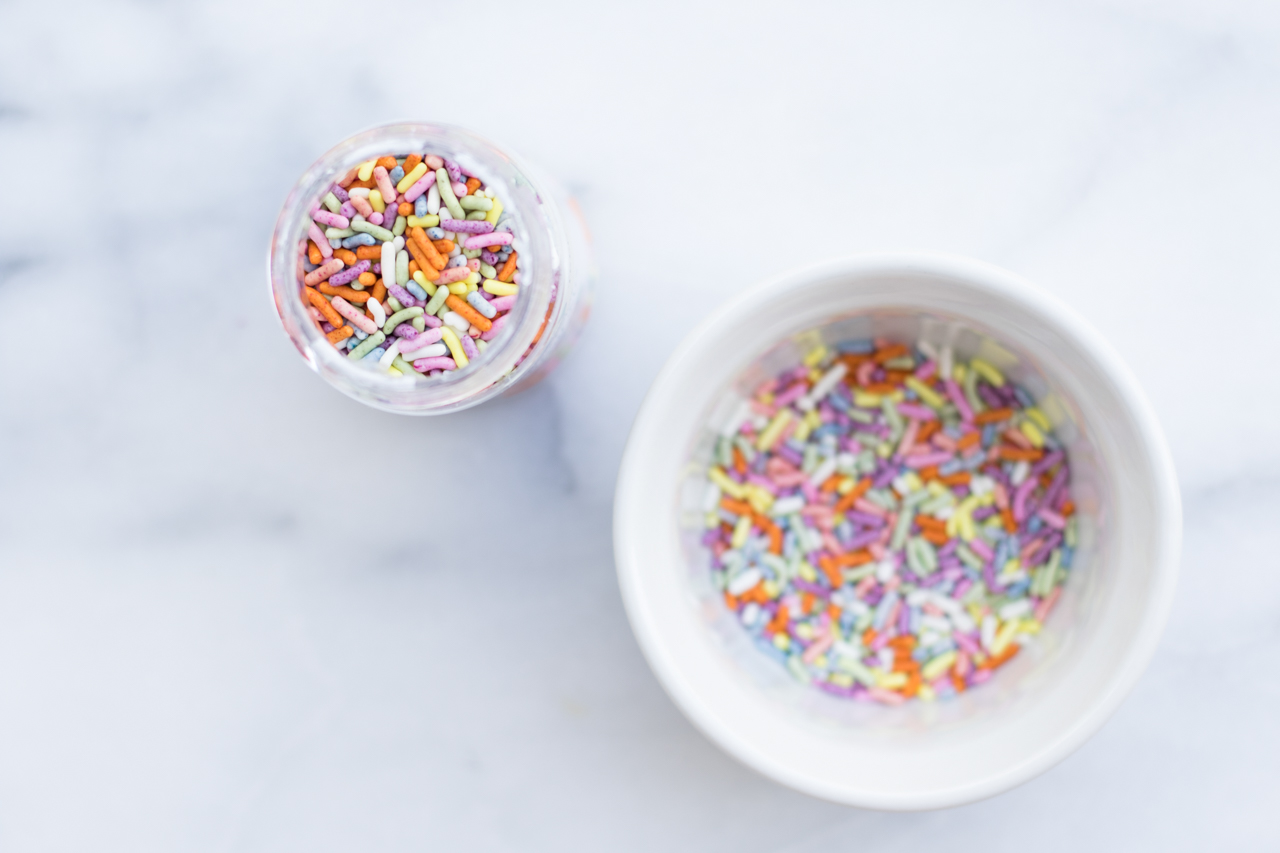 You can see the colors are still bright & cheerful but they're colored with vegetable colorants instead of harmful food coloring like Yellow 5, Red 40, & Blue 1. Yuck, yuck, yuck. No bueno.
These sprinkles use vegetables, so basically, we're eating kale… KIDDING, obv ; )
To get more specific, the sprinkles I used (India Tree sprinkles), are colored with turmeric, annatto, beet juice, vegetable juices, & beta carotene (which an organic, strongly colored red-orange pigment abundant in plants and fruits).
Cool, right?
These are definitely my go-to sprinkles now.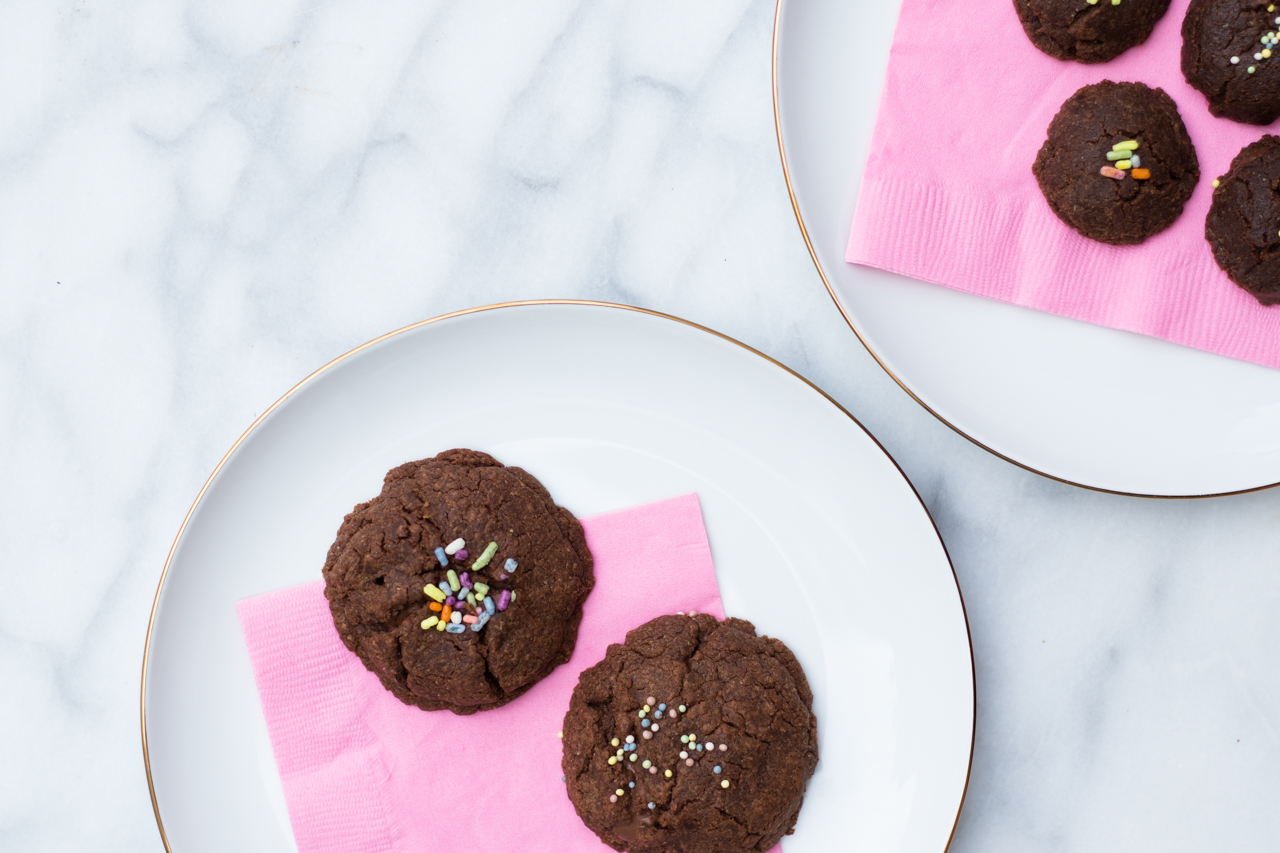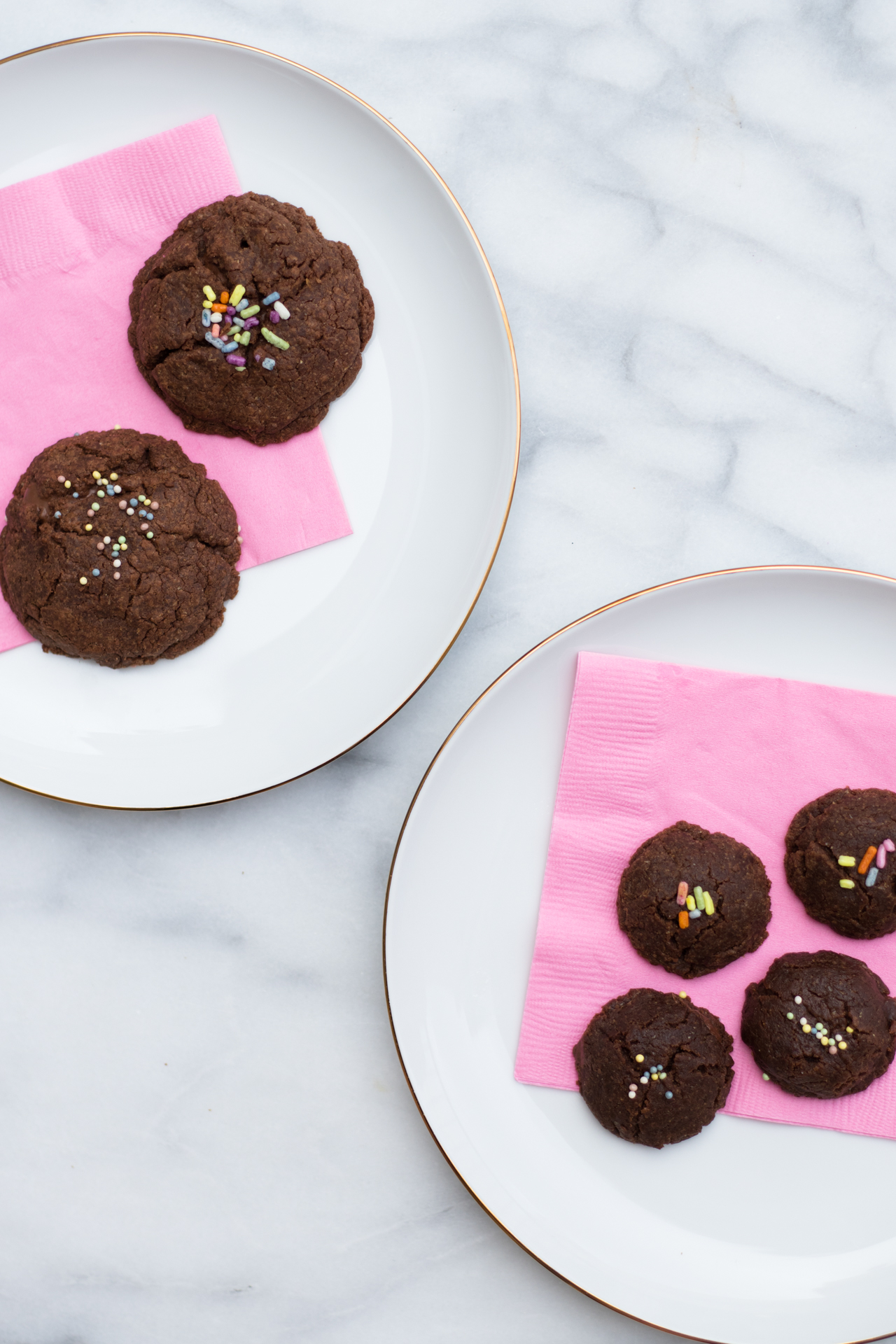 Okay, & here's the recipe for these DELICIOUS cookies—I'm STILL obsessed with:
3-INGREDIENT NUTELLA STUFFED NUTELLA COOKIES
INGREDIENTS
(makes ~ 50-52 small cookies)
3 cups Nutella (2 cups for dough + 1 cup, refrigerated, for stuffing)
2 cups 100% white whole wheat flour
2 eggs (preferably organic & pasture-raised)
Optional—Sprinkles for decoration (I used these)
(Heads up ⇢ You'll also need baking/parchment paper)
DIRECTIONS
Preheat oven to 350° F and line two trays with baking/parchment paper.
In a large bowl, mix together two cups Nutella and eggs. Add flour and stir until fully blended. The dough should be pretty thick.
Scoop out a teaspoon of dough (I actually use a teaspoon, it makes it easier to get a round shape) and flatten it in your palm. Place on lined baking tray.
Put a teaspoon of cold Nutella in center of cookie.
Scoop out another teaspoon of dough, flatten it in your palm, place it over the Nutella and press the edges of the two cookies together, sealing them like ravioli. I like to stretch out the top cookie a little more than the bottom cookie so I get cracks on the top (see snapchats below) because it makes it easier for the sprinkles to stick to it.
Repeat until you've used all the cookie dough. (Tip ⇢ To save time, I fill the entire tray with the bottom cookies, place a teaspoon of cold Nutella on each cookie, then add the top cookies.)
Bake for 6-7 minutes. Makes ~ 50-52 cookies. MMMM MMMM!!
If you want to speed up the process you can also make larger cookies instead of a whole bunch of small ones (& bake them for 8-10 minutes).
I was getting a bit antsy this year since I doubled the recipe, or maybe even tripled it, (I usually double it), so I also made some big cookies, which was kind of fun. The big ones are just as delicious & you get more cookie & Nutella in the middle. YUMMM!!
Let me know if you make these or if you try the sprinkles with another recipe. & tag me in your pics on IG (@JOYFETTI). I'd love to see what you make! Even though it'll probably make my sweet tooth even worse ; )
Happy New Years!
I hope you have a very sweet NYE : )
<3,
Bita
Recipe adapted from Butter Baking.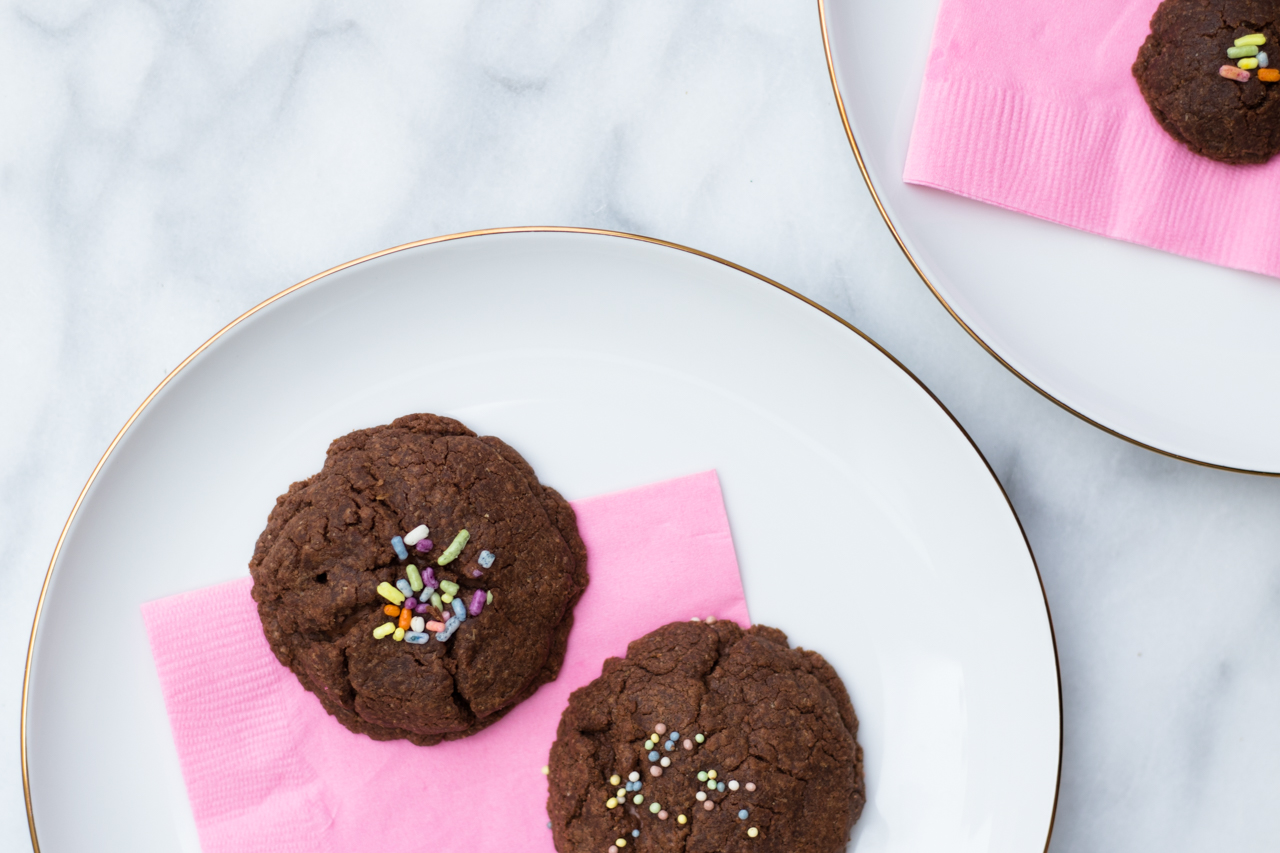 More jimmies & baking tools: