Pregnant!
07.06.2021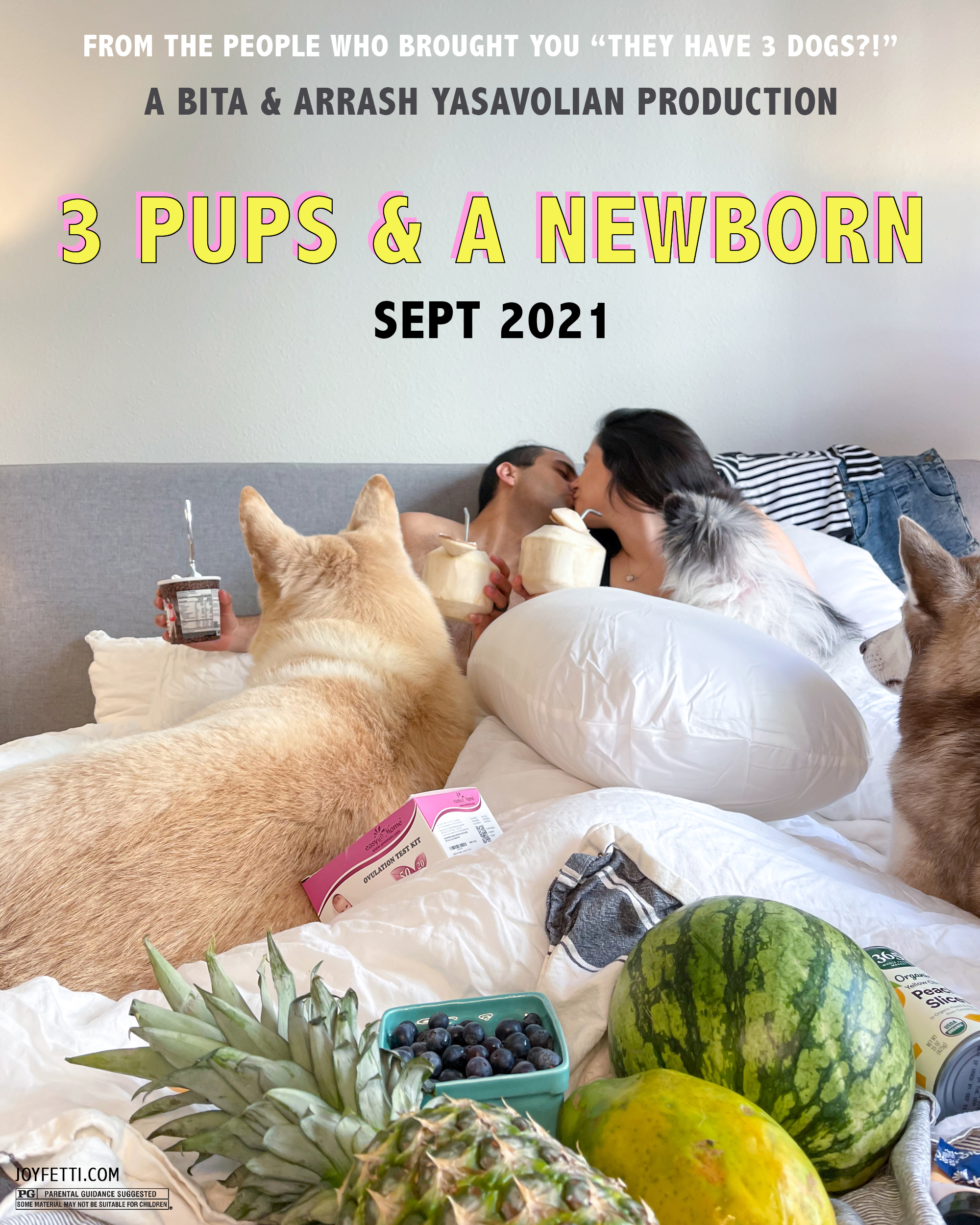 We're so excited to share the news with you! I'm pregnant!
"3 pups & a newborn" coming Sept 2021 : )
We took these pics at 25 weeks when baby was the size of an eggplant—& now we're at 31 weeks (& the size of a coconut) going on 32 weeks.
There's lots to share, so lmk what you want to hear about on the blog, social, etc. I'm excited to share with you! : )
Here are some "bloopers" from our home photoshoot (& hop on over to Instagram to see Cubby going at it with the bluebs. She loves blueberries! I do too!):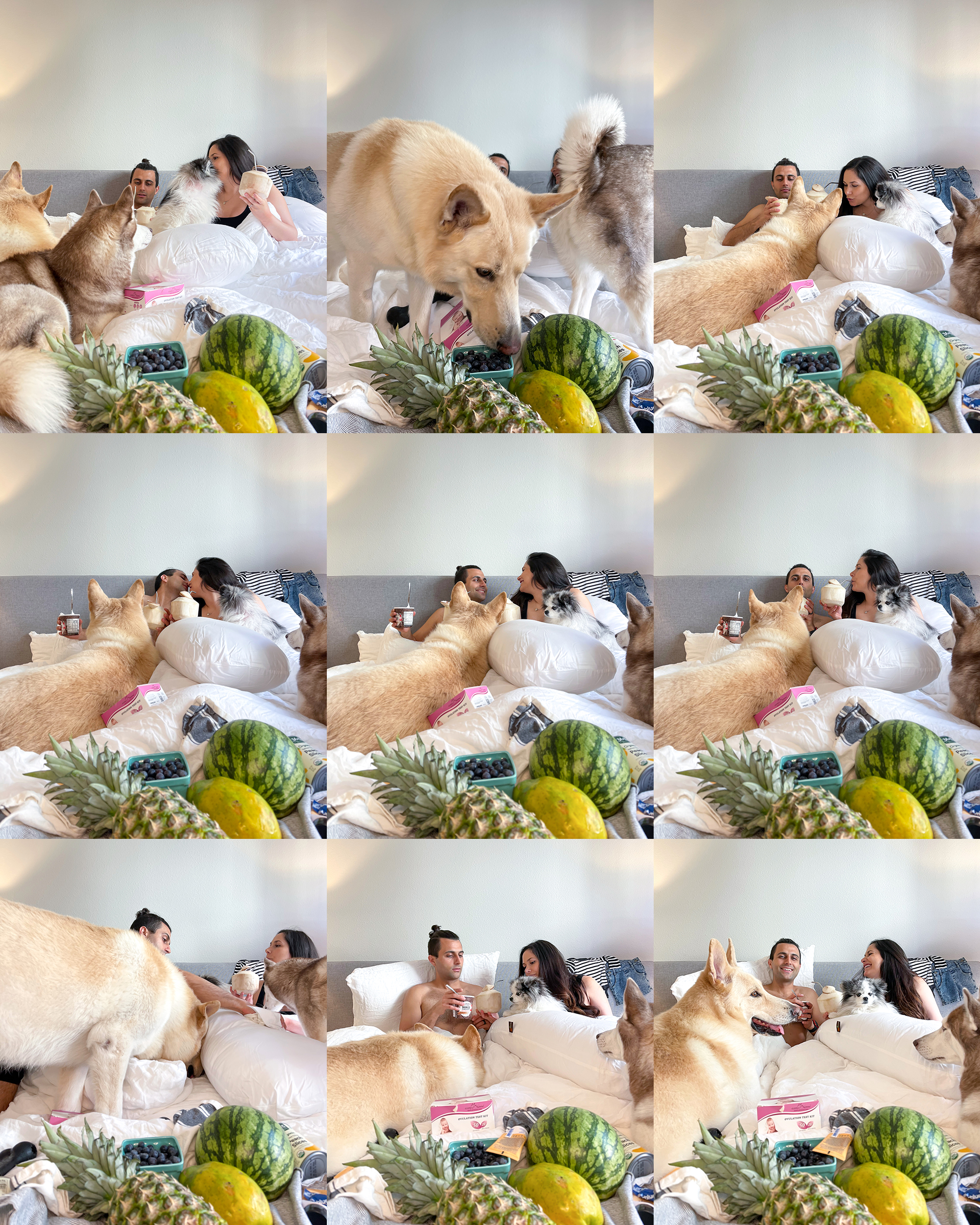 The concept for our pregnancy announcement was inspired by the "This is 40" movie poster where the parents are in bed & the kids are flying around on top of the bed… Know the pic?
I also included some items on top of our bed to help share a little bit about our pregnancy story (much more to come soon!)
Here's what I included:
Tons of fruit—it's been my biggest craving throughout this pregnancy. My first 2 trimesters I had a lot of blueberries, papaya, canned peach slices (which feels so random! I hadn't had canned peaches for so long & it feels somewhat nostalgic—it reminds me of food I ate as a kid, which was also a big theme my first 2 trimesters!)
Fresh coconuts—it's our thing : ) Arrash & I love having fresh coconuts together : ) We had them at our wedding too! (If you're opening fresh coconuts at home, use this tool. It makes it a lot easier to open them up.)
Hu chocolate-covered hunks sour goldenberries because yum! I've always had a sweet tooth, & it's been thriving during pregnancy! These have been one of my go-to sweets : )
Vixen vegan gelato—our favorite, go-to ice cream pint. We get it at Whole Foods.
EO hand cream—during my first 2 trimesters, I applied this hand cream like crazy, all over my hands & body, along with my other oils, creams, & body butters. I kept this hand cream very accessible at home & took it with me when we left the house. It's small & portable, so it's easy to take with you on the go. And this orange blossom & vanilla scent smells soooo good!! Love it!
Ritual prenatals—I started taking these back in April 2020 when I got off my birth control & I've been taking them every day since, throughout my pregnancy. They're vegan & I feel good about the ingredients. Plus, they're really cute, which I appreciate… LOL, it helps me enjoy them more : ) Originally, I was taking them in the morning. Eventually, at some point in my pregnancy, I started taking them at night, because it was easier to take pills at night because of my nausea. More on pregnancy symptoms later… There's lotssss to discuss there!
Easy@Home Ovulation Test Kit—I bought this on Amazon after it was recommended to me by one of our friends. We'd been trying to conceive since our wedding (June 2020), & it hadn't happened for us yet so we bought it at the end of November, started using it right away & conceived that month in December. We're SO thankful for this kit! I used the ovulation test strips & the app that pairs with it. LMK if you want to hear more about our experience with this! I'm happy to share!
Clearblue pregnancy tests—after I took a pregnancy test from the Easy@Home Ovulation Test Kit, I took a Clearblue pregnancy just test to make sure! : )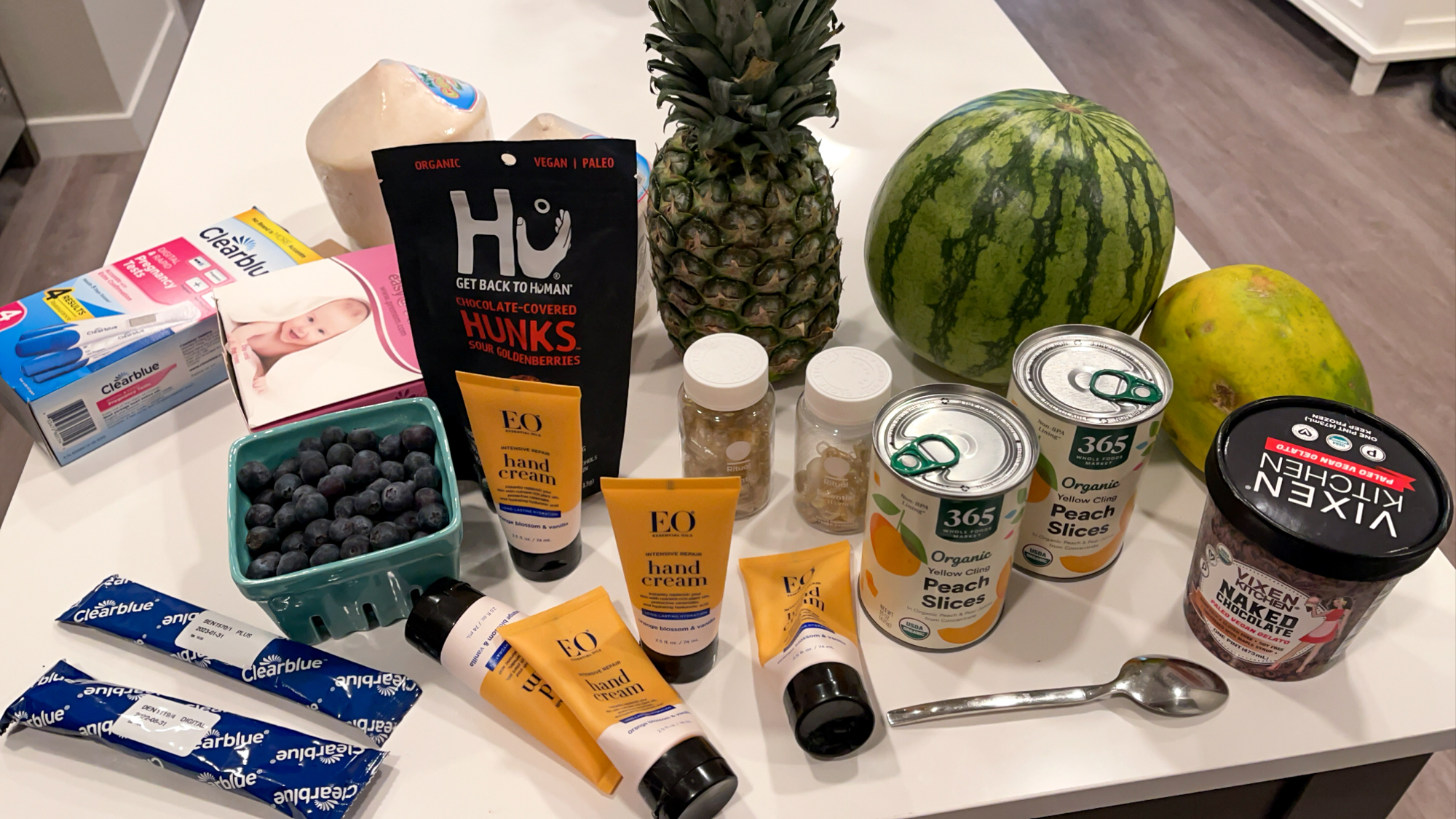 We also included my pregnancy pillow, which I'm obsessed with it! It's like sleeping in a cloud that hugs you. The dogs are big fans of it too—they've all napped in it. Pregnant or not, if you have any back pain, this pillow is a literal DREAM! I can't recommend it enough. It's amazing!
& our Parachute linen sheets—I LOVE these!
& of course, some cute baby clothes, including this long-sleeve onesie from Oliver & Rain (it's on sale rn!).
LMK what kind of pregnancy content you want to see here. I'm so excited to share with you! : )
LOVE YOU! Thanks for being here : )
<3,
Bita
Home photoshoot vibes: